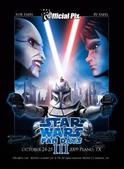 One of the true
Star Wars
"King of Kollectors" Gus Lopez himself has provided some pics taken from
The Art of Ralph McQuarrie
exhibit that took place at
Fan Days III
this past weekend.
The pics come courtesy of
Gus' Flickr album page
.
See the exhibit intro below and then click each thumbnail pic for a larger image. And if you haven't done so already, head on over to
Dreams & Visions Press
to order your copy of
"The Art of Ralph McQuarrie"
and then to
Paizo.com
for
"Gus and Duncan's Comprehensive Guide to Star Wars Collectibles"
.
Many thanks to Gus for the outstanding photos!
"The Art of Ralph McQuarrie is coming to Fan Days 3. This marks the first ever Art Exhibit from the archives of Ralph McQuarrie with art that has never been seen by the public. Selected pieces of original drawings and paintings from his 50 years of work will be presented in the exhibit. Besides the original Star Wars Trilogy, Ralph has worked on many film and T.V. projects as well as book covers, film posters and theme park rides. Don?t miss out this special exhibit of original art, concept drawings from Star Wars, The Empire Strike Back and other projects by Ralph McQuarrie."