SW Fan Days III - Tom Hodges Update
Posted by
on August 30, 2009 at 04:35 PM CST: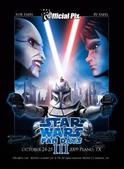 See the following
Star Wars
Fan Days III update from attending artist Tom Hodges posted over in our official
Fan Days III forums:
"I'm now taking pre-orders for SWFD3. The commissions for Pre-Order are 2 different sizes:

8.5" x 11", Single Character, Pencil/Marker/Paint Pens on Color cardstock: $40 (additional characters, $25 each)

11" x 14", Single Character, Full Inks/Grey Markers: $100
(full color, add $50. additional characters, $60 each)

50% deposit sent via PayPal to tom@tomhodges.com with the subject SWFD3 Sketch Pre-Order. Please put your request in the message. The balance in full will be required upon pick-up.

I will take Pre-Orders until September 10th.

**NOTE: This is completely separate from the "Draw-A-Thon" so please be sure to order as directed. Thanks you! **"
Be sure to visit
Tom's website
as well as the
Official Fan Days III website
Stories Related To This Story
November 27, 2009
Tom Hodges "Black Friday" Special
October 22, 2009
Star Wars Fan Days III Countdown #1
October 21, 2009
Star Wars Fan Days III Countdown #2
October 20, 2009
Star Wars Fan Days III Countdown #3
October 19, 2009
Star Wars Fan Days III Countdown #4
October 17, 2009
Star Wars Fan Days III Countdown #5
October 16, 2009
Star Wars Fan Days III Countdown #6
October 15, 2009
Star Wars Fan Days III Countdown #7
October 14, 2009
Star Wars Fan Days III Countdown #9
October 14, 2009
Star Wars Fan Days III Countdown #8
October 12, 2009
Star Wars Fan Days III Countdown #10
October 11, 2009
Star Wars Fan Days III Countdown #11
October 10, 2009
Star Wars Fan Days III Countdown #12
October 9, 2009
Star Wars Fan Days III Countdown #13
October 8, 2009
Star Wars Fan Days III Countdown #14
October 7, 2009
Star Wars Fan Days III Countdown #15
October 6, 2009
Star Wars Fan Days III Countdown #16
October 5, 2009
Star Wars Fan Days III Countdown #17
October 4, 2009
Star Wars Fan Days III Countdown #18
October 3, 2009
Star Wars Fan Days III Countdown #19
October 2, 2009
Star Wars Fan Days III Countdown #20
October 1, 2009
Star Wars Fan Days III Countdown #21
September 30, 2009
Star Wars Fan Days III Countdown #38
September 30, 2009
Star Wars Fan Days III Countdown #22
September 29, 2009
Star Wars Fan Days III Countdown #23
September 28, 2009
Star Wars Fan Days III Countdown #24
September 27, 2009
Star Wars Fan Days III Countdown #25
September 26, 2009
Star Wars Fan Days III Countdown #26
September 25, 2009
Star Wars Fan Days III Countdown #27
September 24, 2009
Exclusive Fan Days III T-Shirt
September 24, 2009
Star Wars Fan Days III Countdown #28
September 23, 2009
Star Wars Fan Days III Countdown #29
September 22, 2009
Star Wars Fan Days III Countdown #30
September 21, 2009
Star Wars Fan Days III Countdown #31
September 20, 2009
Star Wars Fan Days III Countdown #32
September 19, 2009
Star Wars Fan Days III Countdown #33
September 18, 2009
Star Wars Fan Days III Countdown #34
September 17, 2009
Star Wars Fan Days III Countdown #35
September 16, 2009
Star Wars Fan Days III Countdown #36
September 15, 2009
Special Clone Wars Combo Autograph Ticket
September 15, 2009
Star Wars Fan Days III Countdown #37
September 14, 2009
Star Wars Fan Days III Countdown #39
September 12, 2009
40 Story Countdown To Fan Days III
August 26, 2009
Star Wars Fan Days III Floorplan
August 20, 2009
Star Wars Fan Days III Update - 8/20
August 4, 2009
New Star Wars Fan Days III Website Design
July 19, 2009
Star Wars Fan Days III Update - 7/19
July 14, 2009
Star Wars Fan Days III Update - 7/14
June 14, 2009
Ralph McQuarrie Art At SW Fan Days III
June 1, 2009
Star Wars Fan Days III Update - 6/1
May 19, 2009
Star Wars Fan Days III Update
May 14, 2009
Official Star Wars Fan Days III Auction
May 13, 2009
Star Wars Fan Days 3 Update
April 7, 2009
More Star Wars Fan Days III Guests
April 3, 2009
More Star Wars Fan Days III News
March 26, 2009
Two New Guests For Star Wars Fan Days 3
March 20, 2009
Star Wars Fan Days III Guest List!
February 11, 2009
Star Wars Fan Days 3 Promo Cards











<! -- Euro Sponsor button --> <! -- Euro Sponsor button -->