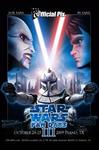 The title of this update says it all - the first round of guest celebrities has been announced for
Star Wars
Fan Days III!
So far, the following guests have been announced:
Steve Sansweet - LFL Director of Fan Relations
Christy Marie - Slave Leia
Ken Tarleton - Elvis Trooper
Jeremy Bulloch - Boba Fett
Phil Eason - Yaddle
Rusty Goff - Kabe, Jawa
Jack Klaff - Red 4
Ray Park - Darth Maul
Dave Prowse - Darth Vader
Matt Lanter - Voice of Anakin Skywalker in TCW
Tom Kane - Voice of Yoda in TCW
Catherine Taber - Voice of Padme Amidala in TCW
You can check out the official
Star Wars
Fan Days III updates
here
.
Wait a second.... Do you smell that?.... *
sniff sniff
*.... It seems that the fresh Spring air has brought us....
STAR WARS
CONVENTION FEVER!!
Keep your targeting computers locked onto TFN right here as we bring you every
Star Wars
Fan Days III update as they happen!!