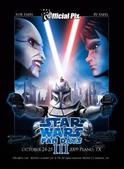 We've just gotten word of a few new names that have been added to the increasing list of attendees for
Star Wars
Fan Days III. The new additions include:
Nalini Krishan - Barriss Offee
Hugh Quarshie - Capt Panaka
Robert Hendrickson - Artist
Check out the entire guest list on the official
Star Wars Fan Days III website.
And head on over to our official
Rebelscum Fan Days III forums
to chat with fans about the show!
As always, stay tuned right here for all the new updates to Fan Days III as they happen.