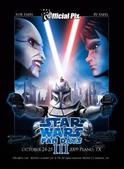 Two more guests have been added to the expanding list of attendees at
Star Wars
Fan Days III. The impressive list now includes:
Fan Favorites
Shane Turgeon - The Force in the Flesh Author
Artists
Clark Mitchel
Keep it locked in right here for all your Fan Days III updates as they are released.
The official
Star Wars
Fan Days III website can be found
here.
And check out the great fan discussions going on in our dedicated
Rebelscum Fan Days III forum.