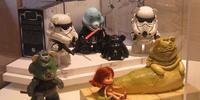 American Greetings Gallery in Cleveland, Ohio will be featuring 8-inch vinyl Grumpy Bears customized by over 50 artists to benefit Harvest for Hunger.The show will be exhibited for three weeks and each toy will be part of a silent auction. The event takes place from September 11th through the 29th.
So why on earth are we talking Care Bears? Well just check out the pic up top, several of the entries are
Star Wars
related! We've got a Jabba Bear, Gammy Bear, Vader Bear, and two Trooper Bears, all of which are available still if the price is right for you. These are all being auctioned off right now, so
click on through
for more info on how you can make one two or all of these great customs part of your collection today, while at the same time help raise money for charity!
Special thanks to
Chris Holoka
for the heads up!
UPDATED:
Also be sure to check out the the
Star Wars
artists
website for packaging shots
as well! Thanks to David Snedigar for the tip!