DARTH DEW SLURPEE CUP
DARTH VADER & YODA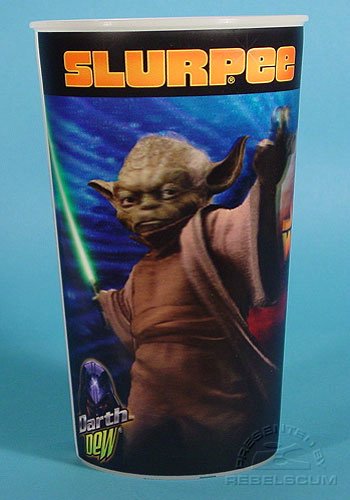 Roll over image above to spin the cup!!
Source: (Revenge of the Sith)
Year: 2005
Assortment: Slurpee Cups
Retail: Free with purchase
Manufacturer: 7-11 Stores
Accessories:
Darth Vader Lid
3-D Illustration

Comments: Cups can be filled with Darth Dew! Modeled after Mountain Dew Pitch Black, the popular limited-edition soda that combines the great taste of Mountain Dew with a blast of black grape flavor.

Points of Interest:
Darth Dew Sleurpee was available during a special promotion at 7-11 stores in May, 2005. There are four special edition cups to choose from, as well as a mug shaped like Yoda.
Photography by Jay Shepard

Back To Beverage Containers