BB-8 & BB-9E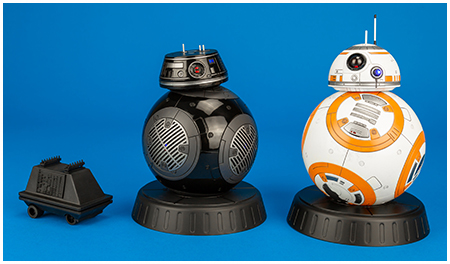 1/6 Scale Collectible Figure Set
Announced on September 16, 2018, Hot Toys' MMS442 BB-8 & BB-9E Movie Masterpiece Series 1/6 scale collectible figure two pack gave collectors another chance to take home Poe Dameron's charismatic droid along with the First Order's diminutive little jerk BB-9E and a repaint of the Mouse Droid from the Mouse Droid last offered with 2015's MS268 Stormtroopers two pack. Both the BB-8 and BB-9E figures in this set match the figures offered individually as MMS440 and MMS441 respectively. This set began shipping in North America in July, 2018.

Product Information
Manufacturer:
Hot Toys
Source:
Star Wars Episode VIII: The Last Jedi
Year:
2018
Original Retail Price:
$176.00
Item Number:
MMS442 / 903190
What's In The Box?
BB-8 Figure (two parts: Head & Body Ball)
4x Unique Inactive Access Port Covers
3x Unique Active Access Port Cover
1x Secret Map Containment Drawer
2x Unique Antenas
#Thumbs Up (or Flipped Bird*) Flame Arm ((*Luke, you're going to find that many of the truths we cling to depend greatly our own point of view.))
Active Grasping Arm
Inert Grasping Arm
Welding (?) Arm
BB-9E Figure (two parts: Head & Body Ball)
2x Removable Vents
2x Display Base
Instruction Sheet
6x LR621 Button Batteries
Mouse Droid Figure
Text & Photography by D. Martin Myatt
Page Built by Adam Lamping
comments powered by

Disqus