CAPTAIN PHASMA (QUICKSILVER BATON)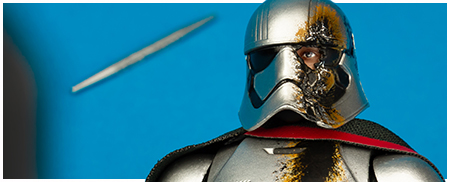 The Black Series
Captain Phasma and a squad of elite First Order troopers capture Resistance heroes Finn and Rose, who have infiltrated Snoke's flagship, the Supremacy. Before Phasma can eliminate them, a series of unforeseen events leads to a dramatic battle between Phasma and Finn.
The Black Series Captain Phasma (Quicksilver Baton) 6-inch action figure featured on this page came as a surprise to everyone when it was discovered in Ontario on June 27th, 2018. The first images were published by a fellow collector on his Instagram account. At the point of this page's publication, this Toys"R"Us exclusive has only been found in Canada, and the initial shipments came from a supply of roughly 2000 pieces.
The Captain Phasma (Quicksilver Baton) action figure is based on the villain's appearance in The Last Jedi as Finn delivers the greatest line ever uttered in a Star Wars film revisits the sculpt used with the original 2015 06 Captain Phasma, but gives it a new head sculpt, fabric cape, and both an extended and inert version of her Quicksilver Baton.

Product Information
Manufacturer:
Hasbro
Source:
The Last Jedi
Year:
2018
Original Retail:
$37.99 CND
Assortment Number:
E2808
UPC Number:
6 30509 70655 6
What's In The Box?
Captain Phasma Action Figure w/ non-removable Fabric Cape
Sonn-Blas F-11D Blaster Rifle
Inert Quicksilver Baton
Extended Quicksilver Baton
Text & Photography by D. Martin Myatt
comments powered by

Disqus