DOCTOR APHRA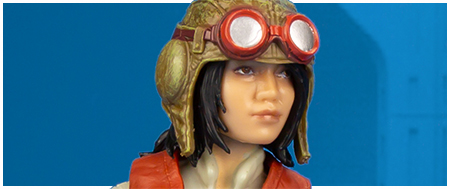 The Black Series
On a mission gone wrong, Doctor Aphra finds herself at the hands of the formidable Sith Lord, Darth Vader. A rare survivor of such meetings, Aphra is recruited by Vader for her skills in reprogramming droids and her apparent lack of remorse for breaking the law to get what she wants.
The Black Series #87 Doctor Aphra action figure featured on this page is a character debut, and was released as part of Wave 21 of 2019's The Black Series assortment. Originally hinted at during Hasbro's 2018 San Diego Comic-Con panel, this rogue archaeologist was officially revealed at 2018 New York Comic-Con. The figure features a blaster, removable helmet, and removable vest. Doctor Aphra began shipping in mid-June 2019, alongside Obi-Wan Kenobi (Padawan), Chopper (C1-10P), Ezra Bridger, BT-1, and 0-0-0 (Triple Zero).

Product Information
Manufacturer:
Hasbro
Source:
Marvel's Doctor Aphra
Year:
2019
Original Retail:
$19.99
Product Number:
E6052/B3834
UPC Number:
6 30509 79402 7
What's In The Box?
Doctor Aphra Action Figure
Flight Cap
Blaster Pistol
Removable Vest
Photography by D. Martin Myatt
Text by B. Acree
Page built by Adam Lamping
comments powered by

Disqus