4-LOM (A.K.A. ZUCKUSS)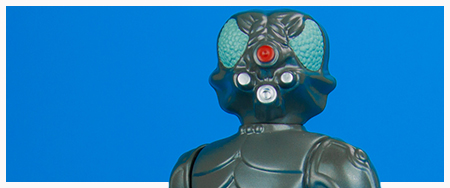 Jumbo Kenner Figure
There are two Jumbo Kenner action figures that we simply have too much of a hard time referring to using the names on the package, and this is one of them. In our eyes, Gentle Giant Ltd's 4-LOM figure will always be our Zuckuss figure (and their Zuckuss will always be our 4-LOM). The name switcheroo, in this instance wasn't a mistake on Gentle Giant's behalf as much as it was a correction to a mistake Kenner made in 1982 when the Cincinnati toy makers accidentally mixed up the characters' names. In doing so, forever the original Star Wars Generation will always refer to these two bounty hunters with the incorrect names and no matter how much evidence to the contrary is presented to us, this will always be Zuckuss to us.
Gentle Giant put their 4-LOM Jumbo Kenner figure up for pre-order on April 12, 2013 and displayed it publicly for the first time in their display at the 2013 San Diego Comic-Con. It began shipping in November, 2013.

Product Information
Manufacturer:
Gentle Giant Ltd
Collection:
Jumbo Kenner Figure
Source:
The Empire Strikes Back
Year:
2013
Original Retail:
$80.00
Edition Size:
Limited Edition
Item Number:
80310
UPC Number:
8 71810 00993 0
What's In The Box?
4-LOM (A.K.A. Zuckuss) Jumbo figure
Zuckuss Rifle
Text & Photography by D. Martin Myatt
Page built by Adam Lamping
comments powered by

Disqus