YODA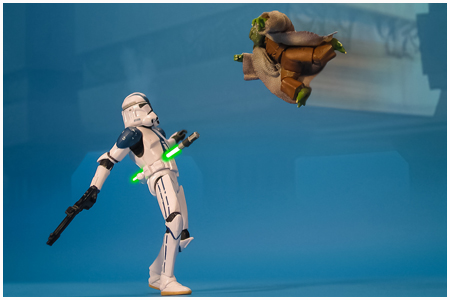 Revenge Of The Sith
The VC20 Yoda action figure was originally slated for release as part of the third wave of figures in
The Vintage Collection
, but it was pulled from the assortment and surfaced in the fifth wave. Gone was the original
Return Of The Jedi
card seen on the back of the third wave figures and in its place was the more action figure specific
Revenge Of The Sith
card art. The
ROTJ
card back finally did see release in Canada in 2012, which is truly ironic considering the classic Kenner card shown on the card back is a Kenner Canada design, but of a card back not known to exist. It is believed by some that Kenner Canada produced so many Yoda figures on
The Empire Strikes Back
cards that the company opted out of offering it in the
ROTJ
assortments.
Beyond this late release, the fifth wave of action figures in The Vintage Collection featured six kit bashed or repainted figures including the repainted VC38 Clone Trooper (212th Battalion), the kit bashed VC39 Luke Skywalker (Death Star Escape), the repainted VC40 R5-D4, the kit bashed VC41 Stormtrooper, the kit bashed VC42 Han Solo (Yavin Ceremony), and the repacked VC43 Commander Gree. This assortment didn't ship to Canada, but the Yoda, Luke, and Stormtrooper were ever offered North of the 49th in future waves.

Product Information
Manufacturer:
Hasbro
Year:
2011
Original Retail:
$9.99
Assortment Number:
21481/97568
Placement Number:
VC20
UPC Number:
6 53569 54896 6
What's In The Box?
Yoda Figure
Lightsaber
Cane
Robe
Dark Side Force Ball
About This Figure
While the VC20 Yoda is essentially a unique figure, it does share the torso of the 2007 30th Anniversary Collection Yoda & Kybuck figure set.
Related Figures
Text & Photography by D. Martin Myatt
Additional Photography by Suzan Lund
US Card Variations Catalogued by Vince Zannelli
Canadian Card Variations Catalogued by Scott McDonald
Page Built by Adam Lamping and Rich Alot
comments powered by

Disqus