LAND OF THE JAWAS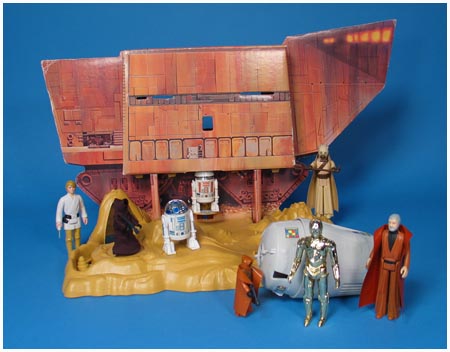 3 3/4" Scale Playset

Kenner's Land Of The Jawas Playset was released in 1979 along with the Creature Cantina Action Playset, the Patrol Dewback, the Droid Factory Playset, the Millennium Falcon, the Darth Vader TIE Fighter, the Imperial Troop Transport, and the Radio Controlled Jawa Sandcrawler.

Thus far the U.S. the Land Of The Jawas has only been documented in boxes with the Star Wars logo. Even though Kenner published an image of it in packaging featuring The Empire Strikes Back logo, none have ever surfaced. There are two versions of the U.S. packaging: The standard version and the rarer Special Offer version, which features a yellow Rebate Sticker.

Kenner Canada had two Special Offers with this playset. In 1979, as a Sears Wishbook exclusive, they packed in a carded Jawa figure . In 1980, as an K-Mart exclusive, they packed in a carded Yoda figure. Both of these offers were promoted by unique stickers on the box front.

UK toy makers Palitoy offered a product very different from the ones produced for the North American audience. Their version used a vac-formed base and featured unique packaging that set the Land Of The Jawas in desert at night. The Palitoy version was produced in very low numbers, and is a very hard piece to find.

Year: 1979
Assortment #: 39130
What's In The Box?

Plastic Base (6 pieces)
Plastic Escape Pod (1 piece)
Cardboard Sand Crawler (4 pieces)
Plastic Elevator Lift (2 pieces)
2x Plastic Sliders (different heights)
4x Foot pegs
Sticker Sheet
Instructions
Star Wars Toys Booklet


Photography & Text by D. Martin Myatt


Back To Kenner