X-WING FIGHTER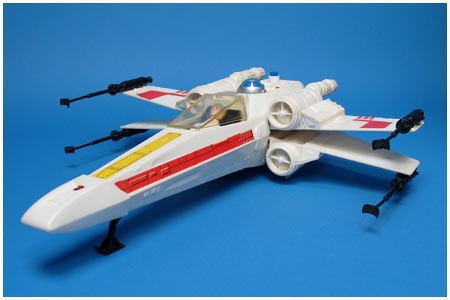 3 3/4" Vehicle

Released in 1978, Kenner's X-Wing Fighter was one of the original 3 ¾" action figure vehicles released. It was released along with the TIE Fighter, Land Speeder, Death Star Play Set, as well as the JC Penney exclusive Radio Controlled Land Speeder and the Sears exclusive Cantina Adventure Set.

In 1979 Kenner altered the package design to include images of Luke Skywalker (X-Wing Pilot) action figure on the box sides and dropped the blue LP (Long Play) logo seen in the '78 release. The package was refreshed once more before its production run ended in 1980, replacing the Star Wars logo with The Empires Strikes Back logo.

Kenner produced an alternate version of this vehicle without electronic light and sound for their UK partners Palitoy. This version features a different nose, a vac-metal R2 head, alternate sculpting behind R2, and and a black and white sticker instead of the sculpted portion found on the standard version.
























Year: 1978
Original Retail: $14.99
Assortment #: 38030

What's In The Box?

X-Wing
Cockpit Canopy
4x Laser Cannons
Instructions
Sticker Sheet
Star Wars Toys Booklet
Kenner's X-Wing Fighter featured a light and sound feature that was powered by two AA batteries and your thumb. As you can guess, the light lit up red and the sound could annoy even the most patient parent.



Photography & Text by D. Martin Myatt


Back To Kenner