BLACKHOLE STORMTROOPER ARTFX+ TWO PACK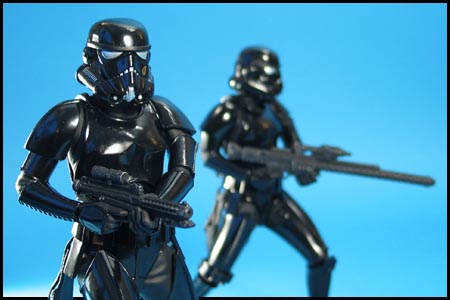 BlackHoleStormtrooper
Trading in the shiny white of the regular Stormtroopers, the elite branch of the Imperial military known as the Blackhole Stormtroopers wore the same armor painted black and coated with a special stealth material. Answering directly to the intelligence agent Blackhole, these Stormtroopers undertook especially dangerous assignments and frequently came to the rescue of regular troops.
Kotobukiya's Blackhole Stormtrooper Two Pack ARTFX+ 1/10 Scale Pre-Painted Model Kit may become the jewel of the new series of model kits. With distribution limited to Europe and Asia only, and a production run limited to only 1,500 pieces, this set is going to be tough for any North American collector to find.
Beyond the alternate colouring of this set, the Blackhole Stormtrooper ARTFX+ model kit is identical to the standard, domestically released Stormtrooper ARTFX+ model kit, with two heads, two torsos, six sets of arms , three switch-out right hands with weapons, four sets of legs with magnetic feet, and two magnetic display stands.

Text & Photography by
D. Martin Myatt
Page Built by Adam Lamping