PADMÉ AMIDALA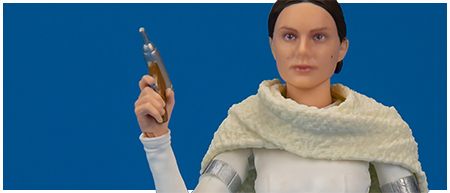 The Black Series
Padmé Amidala was a courageous, hopeful leader, serving as Queen and then Senator of Naboo -- and was also handy with a blaster. Despite her ideals and all she did for the cause of peace, her secret, forbidden marriage to Jedi Anakin Skywalker would prove to have dire consequences for the galaxy.
The Padmé Amidala featured on this page was released as part of the twentieth wave of The Black Series 2019 assortment. Padmé is a sculpt debut, and was officially revealed at the 2018 MCM Paris Comic-Con. She includes Battle Droid blaster, Naboo blaster, removable cape, and an extra right hand (compatible with the Battle Droid blaster.) She began shipping in February, 2019 along with the Battle Droid, Vice Admiral Holdo, Dryden Vos, Mace Windu, and Han Solo (Mimban Mud Trooper) action figures.

Product Information
Manufacturer:
Hasbro
Source:
Attack of the Clones
Year:
2019
Original Retail:
$19.99
Product Number:
E4081/B3834
UPC Number:
6 30509 77983 3
What's In The Box?
Padme Amidala Action Figure
Cape
2x Right Hands
Battle Droid Blaster
Blaster Pistol
Photography by D. Martin Myatt
Text by B. Acree
Page built by Adam Lamping
comments powered by

Disqus