PRINCESS LEIA (PLATINUM EDITION)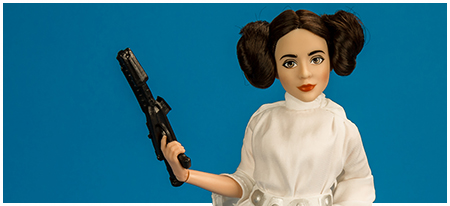 Forces of Destiny Adventure Figure
Princess Leia Organa is a bold leader of the Rebel Alliance, fast to act in the face of danger and determined to see her mission through to aid the Rebellion. Moments before her capture by Imperial Forces, Princess Leia entrusts the droid R2-D2 with a message of great importance.
The Platinum Edition Princess Leia and Artoo-Detoo set pictured on this page was a latecomer to the Forces Of Desiny line, seeing limited release in February, 2018.

Product Information
Manufacturer:
Hasbro
Source:
Forces of Destiny
Year:
2018
Original Retail Price:
$49.99
Assortment Number:
C2945
SKU:
6 30509 59390 3
What's In The Box?
Princess Leia Adventure Figure
DDC Defender Sporting Blaster
BlasTech E-11 Blaster
Removable Belt
Removable Gown
Removable Boots
R2-D2 Adventure Figure
Display Stand (2 pieces)
Photography & Text by D. Martin Myatt
Page built by Adam Lamping
comments powered by

Disqus