R2-X2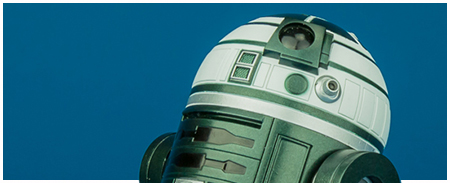 Star Wars Celebration 2017 Exclusive ARTFX+ 1/10 Statue
Kotobukiya revealed their R2-X2 ARTFX+ 1/10 Scale Model Kit on March 8, 2017 as one of the four kits they produced for Star Wars Celebration Orlando 2017 exclusives. Like the others, which included R4-M9, R5-D4, and the 0-0-0 (Triple Zero) & BT-1 two pack, R2-X2 sold out at the event.

Product Information
Manufacturer:
Kotobukiya
Year:
2017
Original Retail:
$44.99
Product SKU:
SW129
Included in the box:
R2-X2 Trunk & Dome
R2-X2 Left Leg
R2-X2 Right Leg
R2-X2 Middle Leg (down)
R2-X2 Middle Leg (up)
Display Base
Commemorative Collector's Coin
Instructions
Original solicitation text:
A Kotobukiya Japanese import! Assigned to Rebel pilot Theron Nett, R2-X2 was one of the many causalities during the Battle of Yavin when the X-wing it was assigned to was shot down in the trenches of the first Death Star.
R2-X2 stands 4 ½ inches tall in 1/10th ARTFX+ scale. Magnets in its feet provide the perfect stability on the included metal display bases. As with other Celebration exclusives this release also includes a special commemorative collector's coin.
srp $44.99
Available APRIL 2017.
Text & Photography by D. Martin Myatt
Page Built by Adam Lamping
comments powered by

Disqus