COMMANDER GREE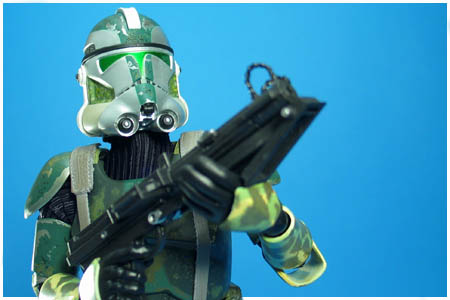 41st Elite Corps 1/6 Scale Figure
Announced on July 12th, 2011, Sideshow Collectibles' Commander Gree 41st Elite Corps 1/6 scale figure went right up for pre-order and began shipping in December, 2011. It came packed with everything you'd expect from one of Sideshow's Clones, and since his character appears in the cartoon, an additional switch-out head sporting the double mohawk seen in The Clone Wars. Like most clones that have come before this, the exclusive version features a unique white display stand.

Product Information
Year:
2011
Original Retail:
$124.99
Exclusive Item Number:
21831
Exclusive Edition Size:
1,000
Regular Item Number:
2183
Regular Edition Size:
5,000
What's In The Box?
Standard Clone Body & Armour
Gree Head
Helmet
Turtle Neck
6x Right Hands
7x Left Hands
2x Sets of Feet
Long Clone Rifle
Standard Clone Blaster
Blaster Pistol
Binoculars
Antenna
Black Display Stand (Regular Only)
White Display Stand (Exclusive Only)
Photography & Text by D. Martin Myatt