SEPARATIST DROID SPEEDER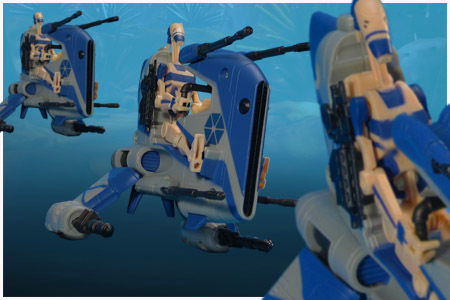 with Battle Droid
2011's first two waves of the "Shadows of the Dark Side"-packaged Figure & Vehicle Packs from The Clone Wars were revealed at New York Toy Fair in 2011. Disappointingly, two-thirds of the first wave was cancelled, but the second wave, which featured the Speeder Bike with Castas, Separatist Droid Speeder with Battle Droid and Republic Scout Speeder with ARF Trooper did see release in July 2011, alongside the Attack Cycle with General Grievous from the first wave.

Product Information
Manufacturer:
Hasbro
Year:
2011
Original Retail:
$19.99
Item Number:
28633/29960
UPC Number:
6 53569 56057 9
What's In The Box?
Separatist Droid Speeder
2x Front Cannons
2x Side Cannons
1x Torpedo
Battle Droid Action Figure
1x Blaster
1x Backpack
Galactic Battle Game Card
1 of 4 Randomly Packed Silver display Stands
Blue Six-Sided Die
About This Set
The Separatist Droid Speeder is an all-new vehicle
The Battle Droid is an all-new figure
Features a dropping bomb and fold-down wings!
Text by Adam Lamping

Photography by D. Martin Myatt