HAN SOLO IN CARBONITE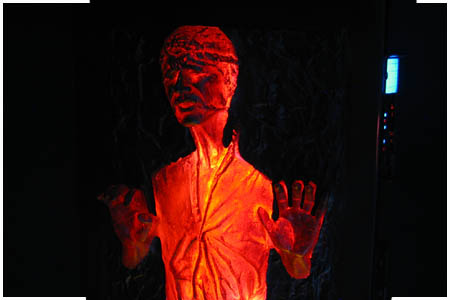 Premium Format Figure
Yes, He's Alive & In Polystone Hibernation Though confirmed months earlier, Sideshow Collectibles revealed the Han Solo In Carbonite Premium Format Figure on June 9th, 2011. It went up for pre-order seven days later. Unlike most of the multi-medium statues in this collection, Sideshow didn't offer an exclusive version for this release. It began shipping out in the spring of 2012.

Product Information
Manufacturer:
Sideshow Collectibles
Year:
2012
Original Retail:
$299.99
Item Number:
300120
Edition Size:
2,000
What's In The Box?
Han In Carbonite Statue
Jabba's Palace Base
3x AA Batteries
Power Cord
About This Statue
The Carbonite Block will light up independently of the base with the use of the three AA batteries, which fit into the back of the block. There is a button hidden in the lower opening on the back that will activate the block's lights.
The Jabba's Palace Base lights up with the use of the power cord.The button beside the cord activates the base's lights, and if you push the Carbonite block back on the base it too will light up.
The Carbonite block by itself can be hung on a wall by way of a hook hole on the top of the block's back side.
It is not an option to activate the side lights on the block without 'thawing' the scoundrel, so you'd better be ready to tell him you love him.
Photography & Text by D. Martin Myatt