LUKE SKYWALKER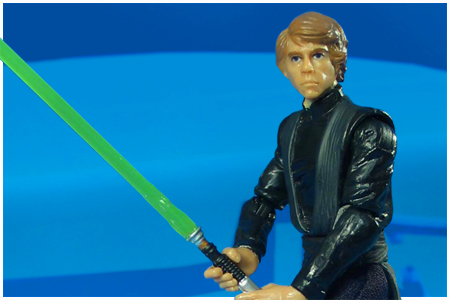 Lightsaber Construction
The second wave of figures in Hasbro's 2012 Vintage Collection included five figures based on scenes deleted from Return Of The Jedi including Colonel Cracken (Millennium Falcon Crew), Rebel Pilot (Mon Calamari), Luke Skywalker (Lightsaber Construction), Princess Leia (Sandstorm Outfit), and Lando Calrissian (Sandstorm Outfit). This collection began hitting shelves in February, 2012, and the initial releases feature two easy to remove stickers advertising the "Deleted Scenes Blu-Ray Figure" and the "Life-Sized Darth Maul Statue" giveaway. All these figures also feature a packed in pamphlet with additional details on the giveaway.

Product Information
Year:
2012
Original Retail:
$9.99
Assortment Number:
49687/37499
UPC Number:
6 53569 73173 3
What's In The Box?
Luke Skywalker Figure
Jedi Robe
Ignited Lightsaber
"Opened" Lightsaber Hilt
Tool
Utility Belt
About This Figure
The Deleted Scenes Luke Skywalker (Lightsaber Constuction) figure features a new head sculpt and a new torso and waist, however it uses the same arms and legs as the 2011 Vintage Collection Luke Skywalker (Endor Captive) figure.

The Luke Skywalker (Lightsaber Constuction) figure is the first that Hasbro has produced with the belt over his tunic. Though Luke didn't wear his utility belt on Tatooine, it is a nice feature, and a perfect accessory for anyone looking to swap out the figure's right hand to create an Ewok Village Luke. (I've personally asked Hasbro yearly since 2003 to give Jedi Luke a utility belt, so this is a very welcome accessory!)

If there has been a figure plagued with controversy in 2012, there is no doubt it was the Luke Skywalker (Lightsaber Constuction) figure. Many collectors have noted since the figure's debut at the 2011 San Diego Comic Con that the hair was parted on the wrong side, the soft good tunic skirt seemed weird, and gearing the figure up with a over-sized Jedi robe instead of his iconic cloak was simply wrong on too many levels. Apparently, the constructive criticisms and vocal dislikes caused by these issues fell on deaf ears, as nothing was altered in the seven months that passed since its debut.

Collectors not happy with the head sculpt will be happy to know that the Luke Skywalker (Endor Captive) head fits on the Luke Skywalker (Lightsaber Constuction) neck.

If you want to turn the Jedi Robe into a cloak without damaging it, simply turn the sleeves inside out and use one of those little elastics to hold the hood close. It isn't a perfect solution to a problem we never should have had, but it'll do in a pinch. Look at the images above to see what it looks like.
Photography by D. Martin Myatt