C-3PO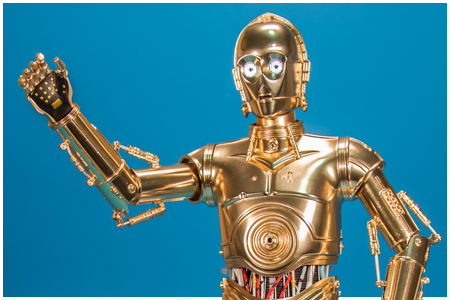 Perfect Model Chogokin Figure
When it was first shown in Sideshow Collectibles' pavilion at the 2012 San Diego Comic-Con, Tamashii Nations C-3PO Perfect Model Chogokin figure turned every head that passed by and was often surrounded by astonished collectors pining for their opportunity to add this beautiful figure to their Star Wars display. Over the course of the next several months, the figure was perfected and by the time we saw it again at the 2013 International Toy Fair, was flawless.
Between these two showings, Tamashii Nations displayed two earlier prototypes of C-3PO as well as his counterpart, R2-D2, which at that point had not been revealed publicly, at the 2012 New York Comic Con.
Video Review

Product Information
Manufacturer:
Tamashii Nations
Distributor:
Sideshow Collectibles
Year:
2013
Original Retail:
$399.99
Assortment Number:
901863
UPC Number:
4 543112 77974 8
What's In The Box?
Head (two pieces with light up eyes)
Torso (with actual wires and ball-jointed under the rib case)
Left Arm (with pivot elbows and functional pistons)
Right Arm (with pivot elbows and functional pistons)
Left Thigh
Right Thigh
Left Shin (with pivot knees and ankles)
Right Shin (with pivot knees and ankles)
3x Sets of Hands (ball-jointed)
Magnetic Restraining Bolt
Comlink
Prying Tool
Display Base (three pieces)
Instruction Manual
About This Figure
Tamashii Nations' 12-inch Perfect Model Chogokin C-3PO figure was meticulously crafted to be 100% accurate to the screen-used costume and features every points of articulation that mimic the full range of movement Anthony Daniels had while performing the character. (save finger articulation)
All parts with the exception of the wires, hands, and accessories are made of perfectly tooled die-cast metal.
This figure, by itself, weighs in at just over two pounds.
Text & Photography by D. Martin Myatt
Page Built by Adam Lamping
comments powered by

Disqus