TOBIAS BECKETT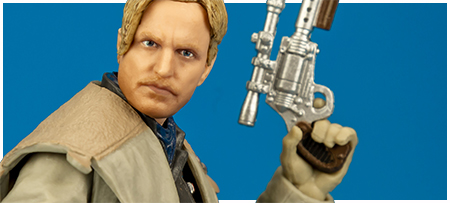 The Black Series
Beckett is a survivor, always quietly working out angles to come out ahead. He's assembled a team of specialized scoundrels to carry out risky but profitable heists.
Revealed in their showroom at the 2018 International Toy Fair, Hasbro's 68 Tobias Beckett action figure, along with the 69 Rebel Trooper and 70 Han Solo (Bespin) figures, began hitting shelves in North America the following July.

Product Information
Manufacturer:
Hasbro
Source:
Solo: A Star Wars Story
Year:
2018
Original Retail:
$19.99
Assortment Number:
E1205/B3834
UPC Number:
6 30509 68390 1
What's In The Box?
Tobias Beckett Action Figure
BlasTech Sideloader DG-29 Heavy Blaster
BlasTech RSKF-44 Heavy Blaster
Text & Photography by D. Martin Myatt
Page built by Adam Lamping
comments powered by

Disqus