In 1998, Dark Horse released a new ongoing monthly series simply titled Star Wars. This rotating series of mini-series features multiple creators and characters, all taking place in the era of the prequel film trilogy. Minor characters from the films would appear in starring roles, and brand-new characters were also created in the comic series, who would make appearances in the films. Then in late 2002, after Attack of the Clones, the titles changed its name to Star Wars: Republic. It began focusing on the Clone Wars and a more concise group of characters.
Prelude to Rebellion, this initial storyline served as a preview to The Phantom Menace, introducing Cerean Jedi Knight Ki-Adi-Mundi, who gets involved with a murder conspiracy on his homeworld that involves his own family and brings him into conflict with Ephant Mon, Jabba the Hutt and the Trade Federation, setting the stage for the movie. By the end of the story, Ki-Adi-Mundi is offered a spot on the Jedi High Council.

A backup storyline "Vow of Justice" revealed the early days of Ki-Adi-Mundi, as he was discovered by the Dark Woman when he was a child. As a special preview to the series, an internet exclusive #0 comic strip was created, which showed a young Ki-Adi-Mundi training with Master Yoda.

Creators for this series include Jan Strnad, Anthony Winn, Robert Jones, John Nadeau, and Jordi Ensign, with covers by Ken Kelly and Dan Brereton.

PRELUDE TO REBELLION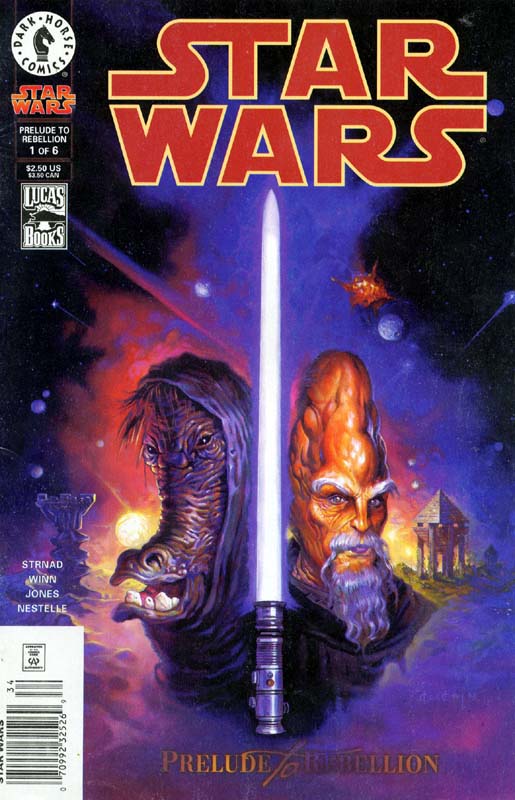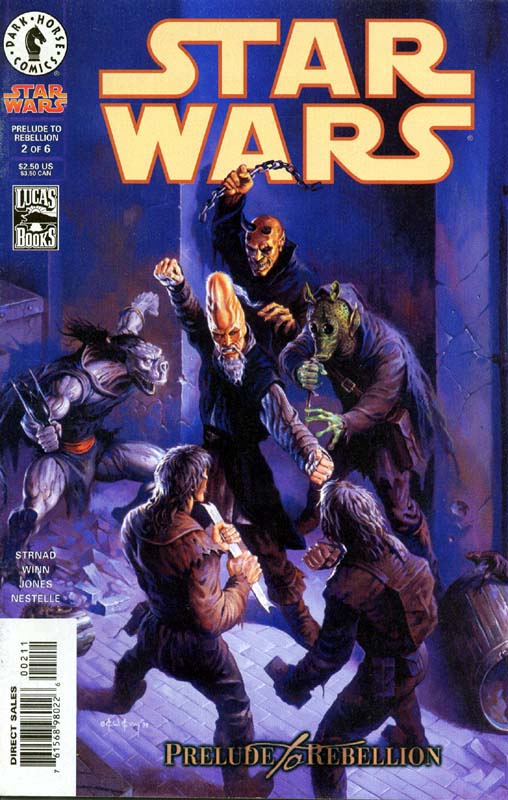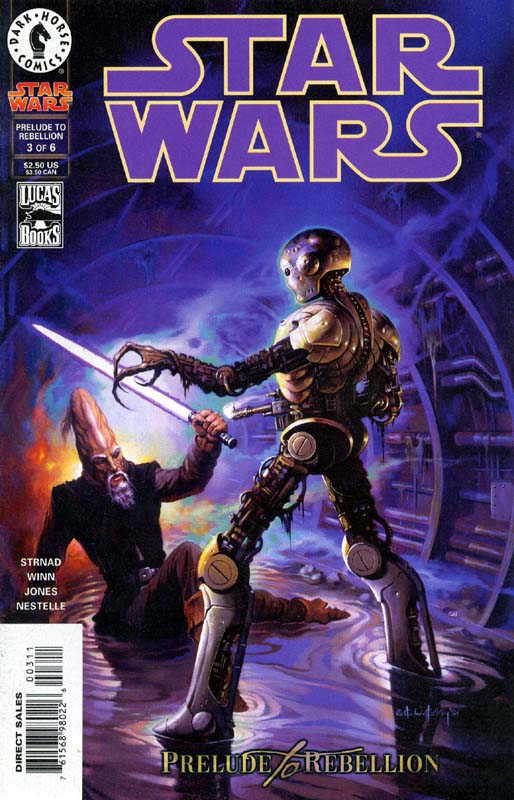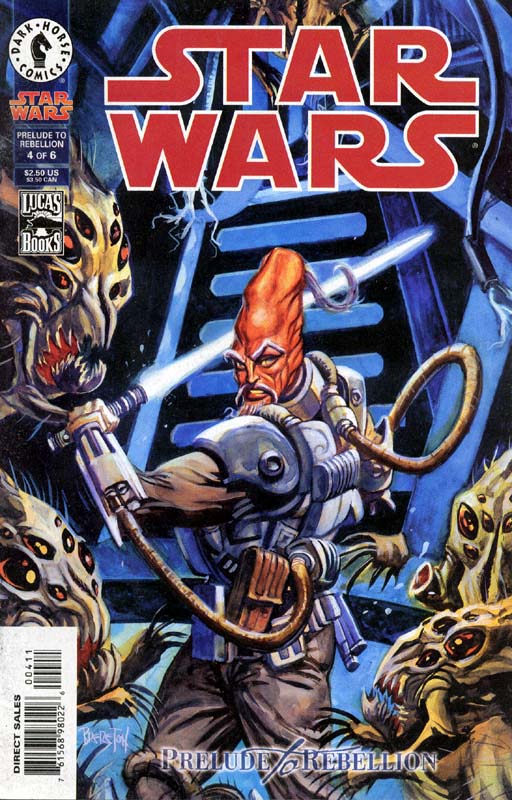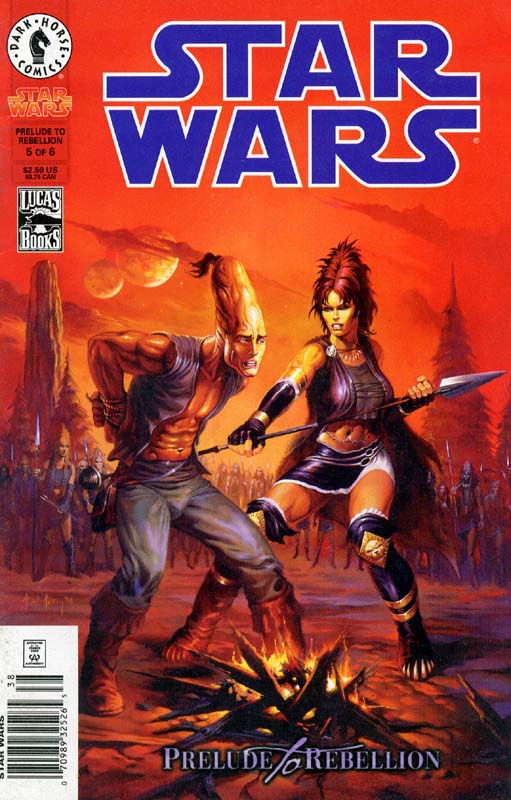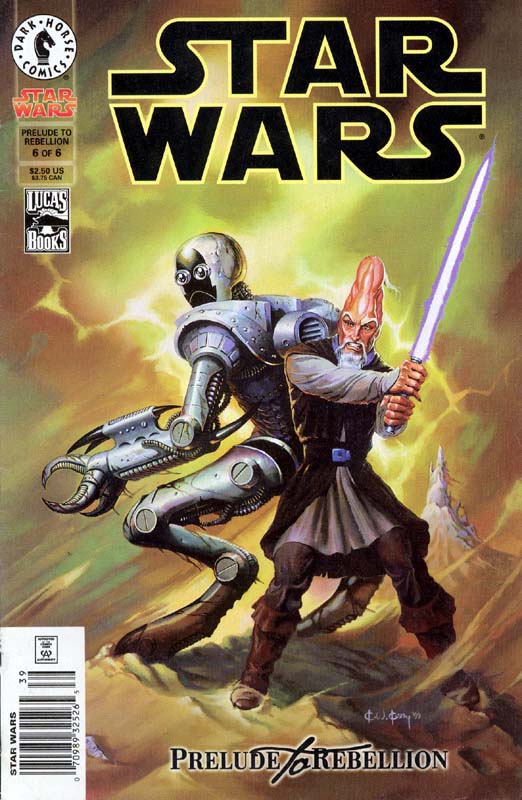 PRELUDE TO REBELLION Online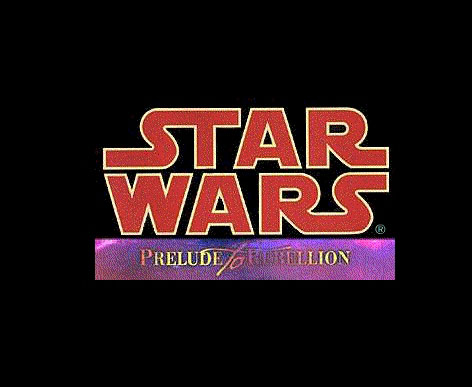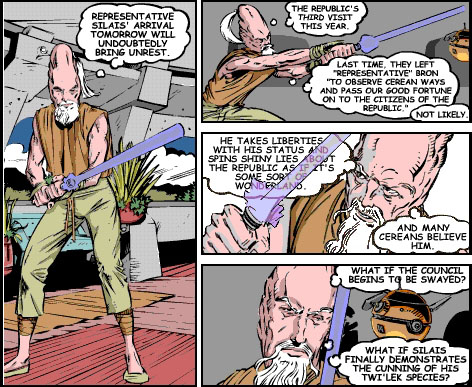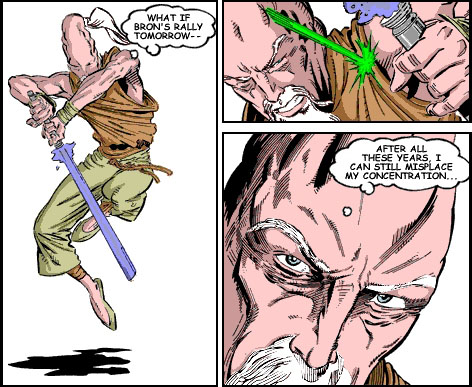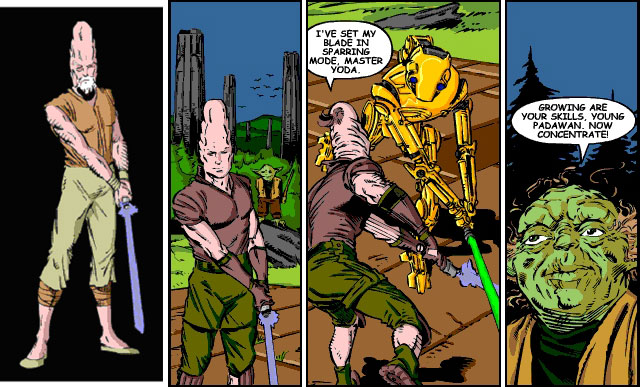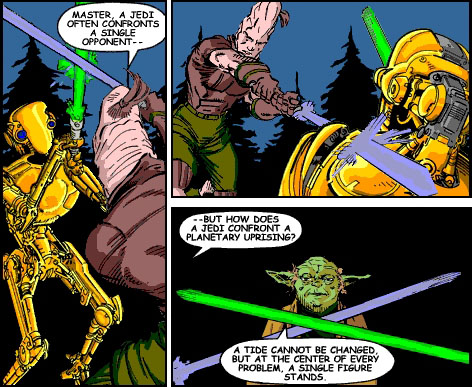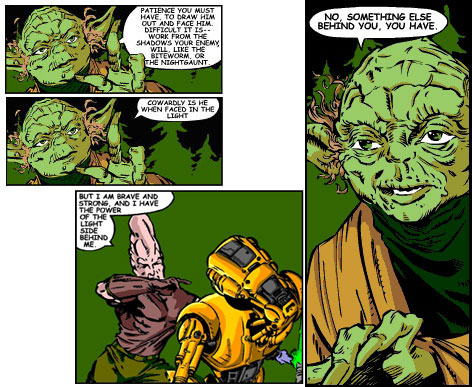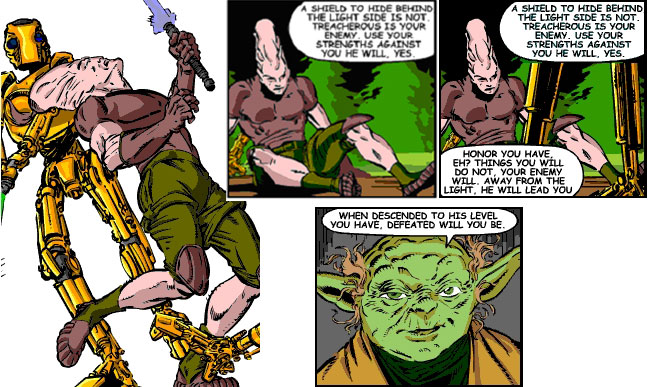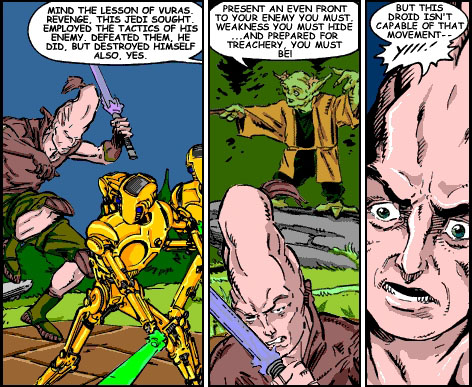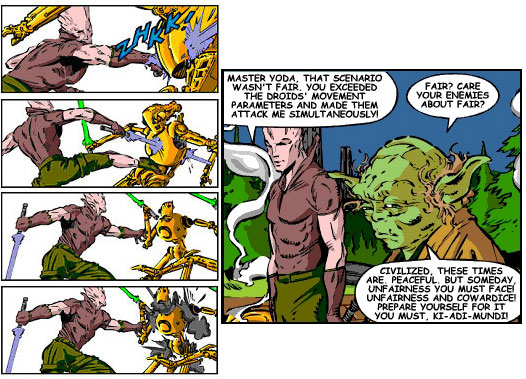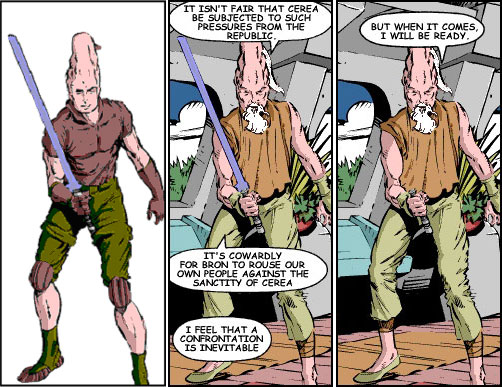 Special Editions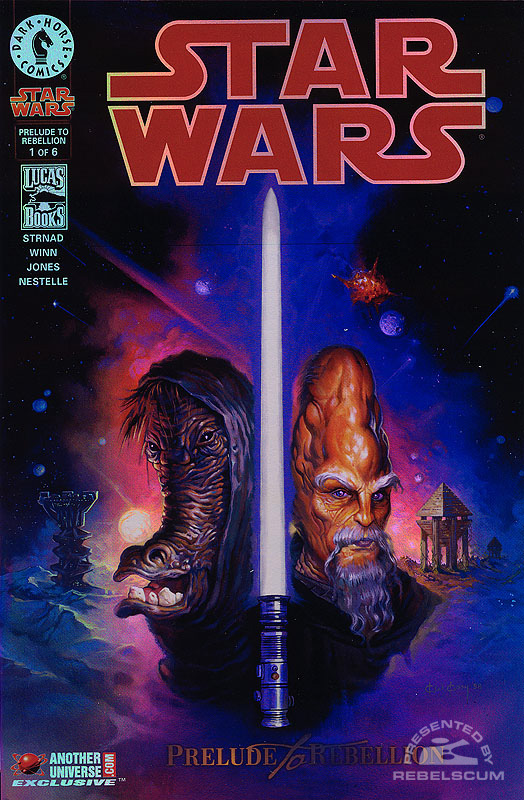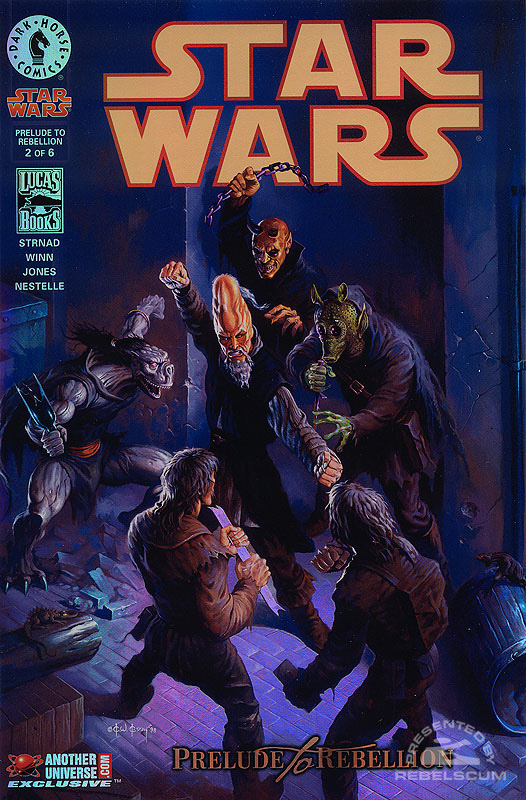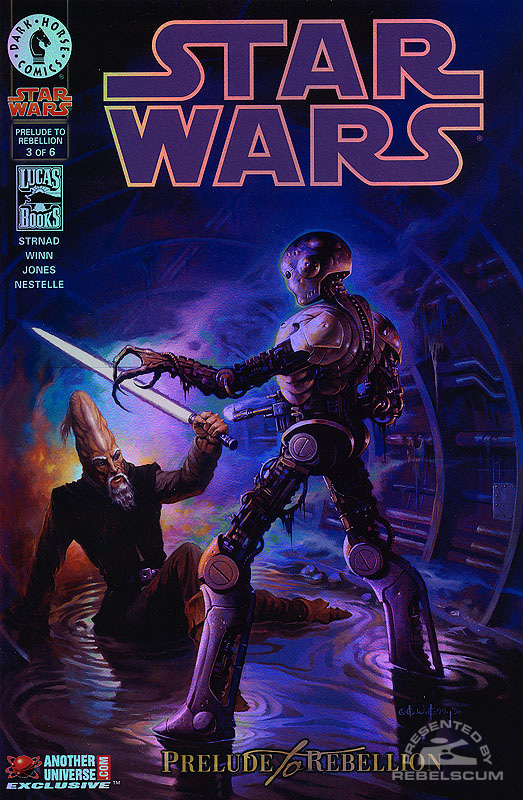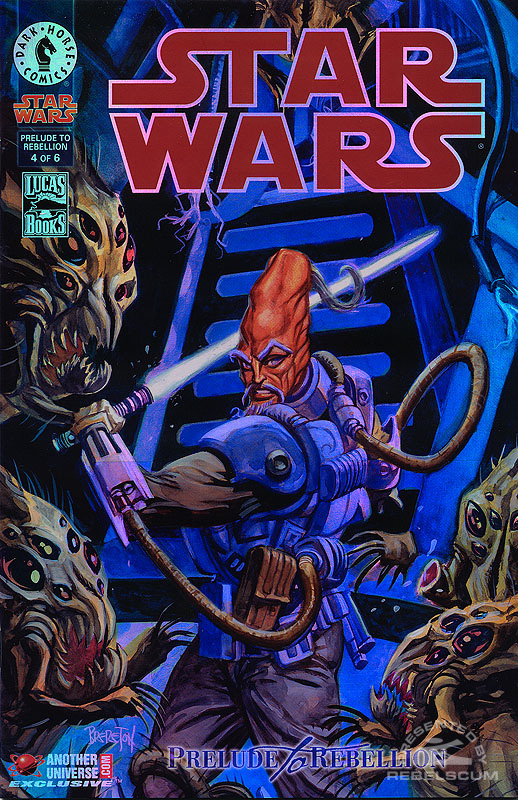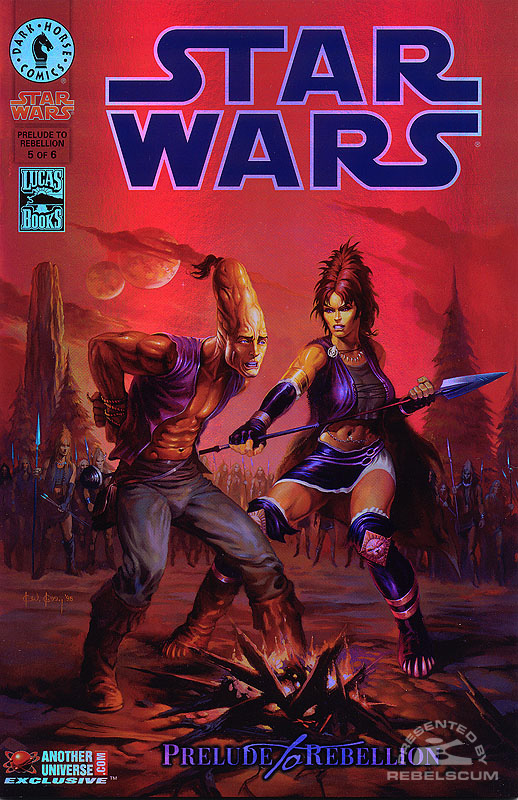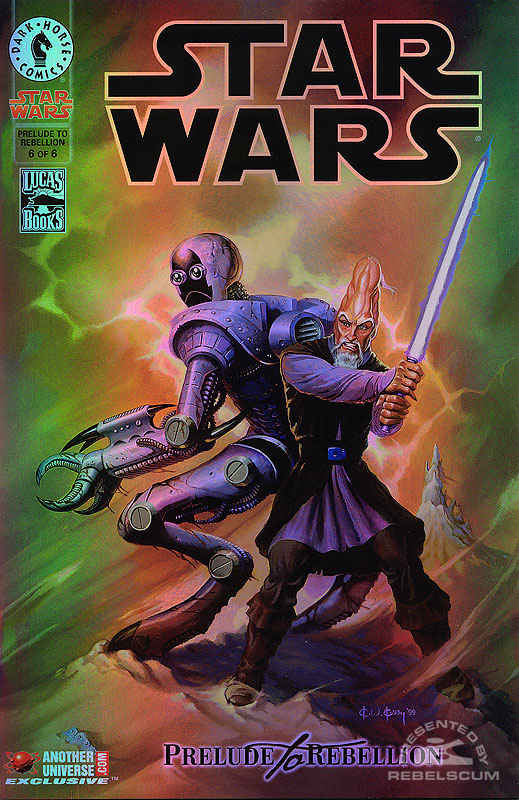 In Outlander, writer Tim Truman brings together the most unlikely characters into one: a Tusken Raider Jedi Knight named Sharad Hett. Taking place after The Phantom Menace, Sharad is organizing the Tuskens on Tatooine, and it's up to Ki-Adi-Mundi to bring him back. This storyline also turns the focus onto Aurra Sing, revealing her connection to the Jedi order, and showing her prowess as a bounty hunter and also a Jedi killer. Sharad's son -A'sharad Hett, also a Jedi- becomes Ki-Adi-Mundi's padawan at the end of this story, returning to Coruscant. The artists for this series include Tom Raney, Rod Pereira, Rick Leonardi, Al Rio, Mark Lipka, Stephen Hawthrone, and Mark Heike. With the different art styles, it is somewhat distracting, but the writing is strong enough to balance this out. Ken Kelly once again provides the cover paintings.

OUTLANDER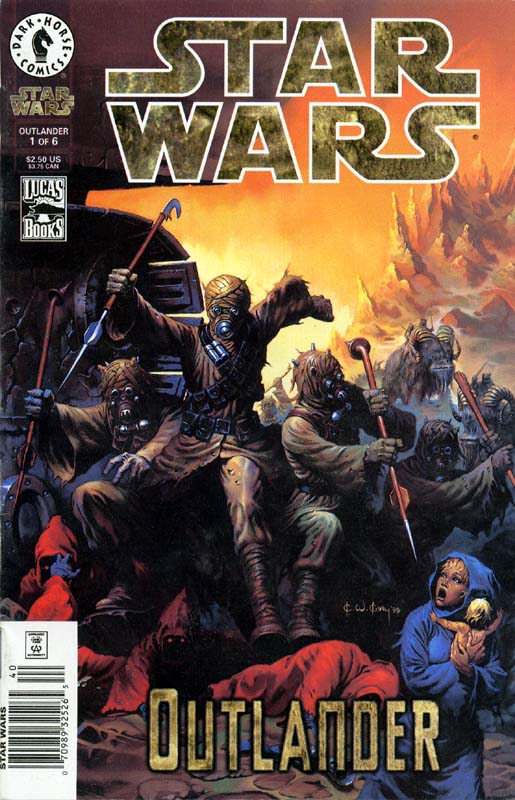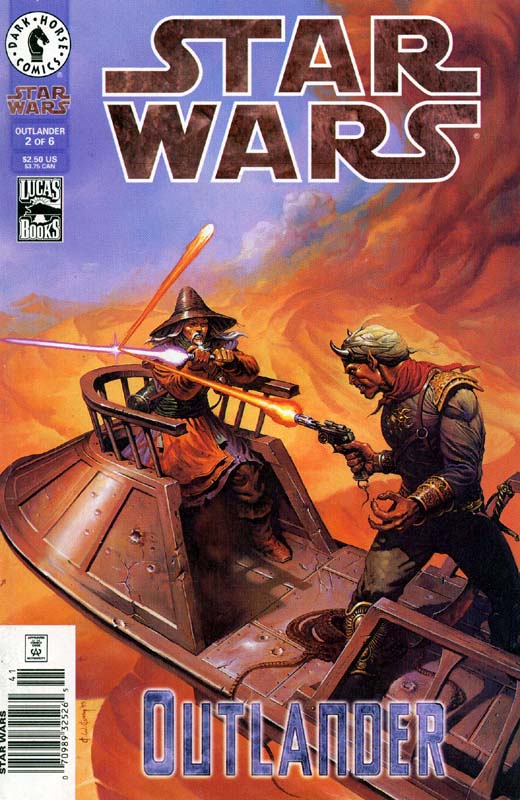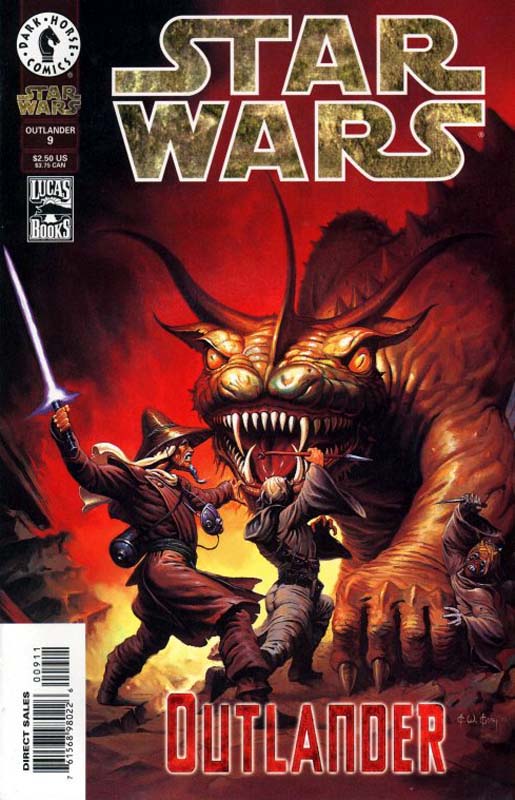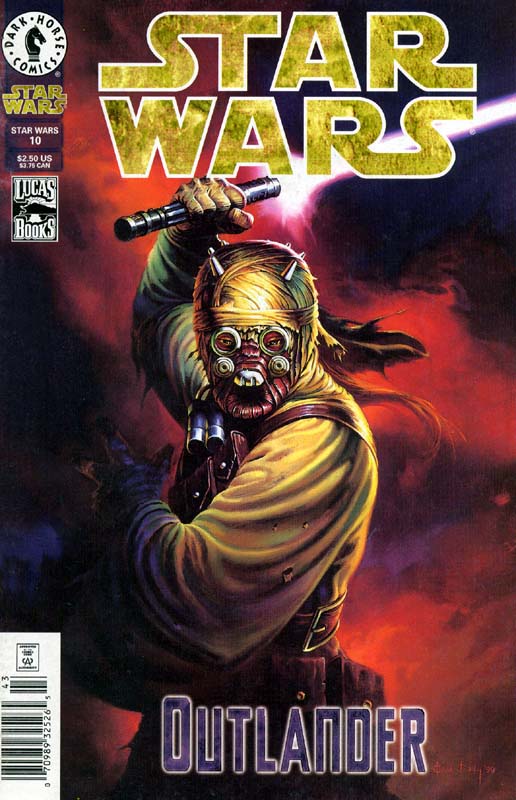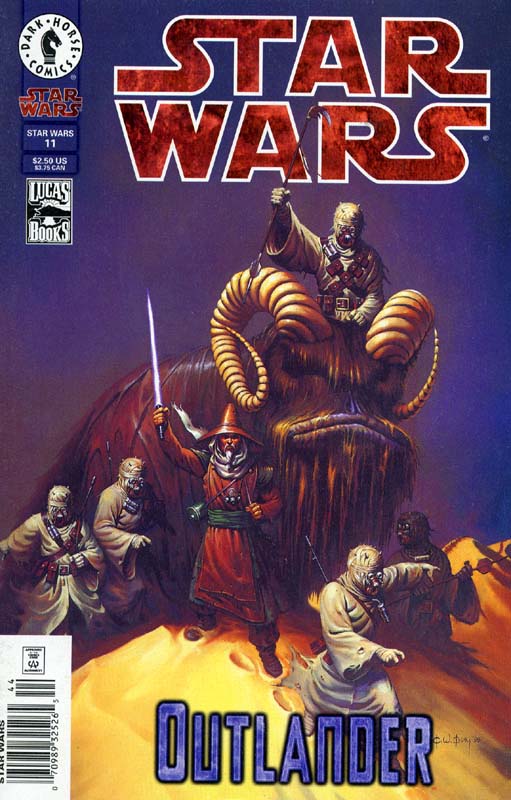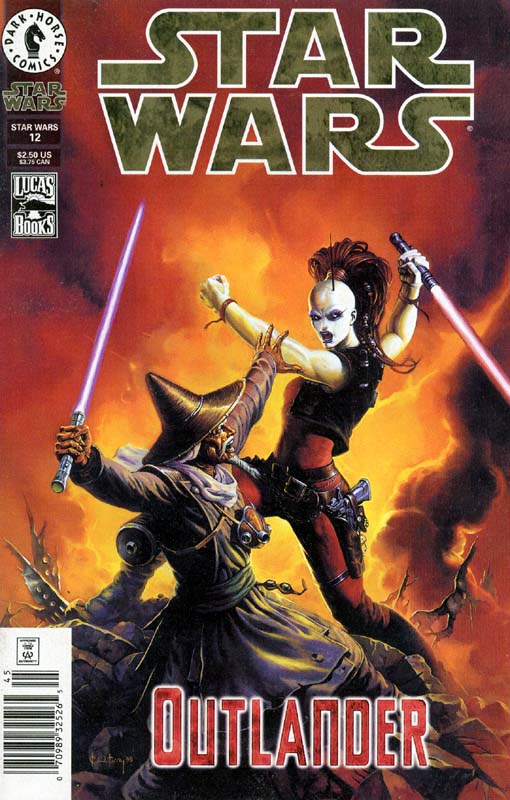 Special Editions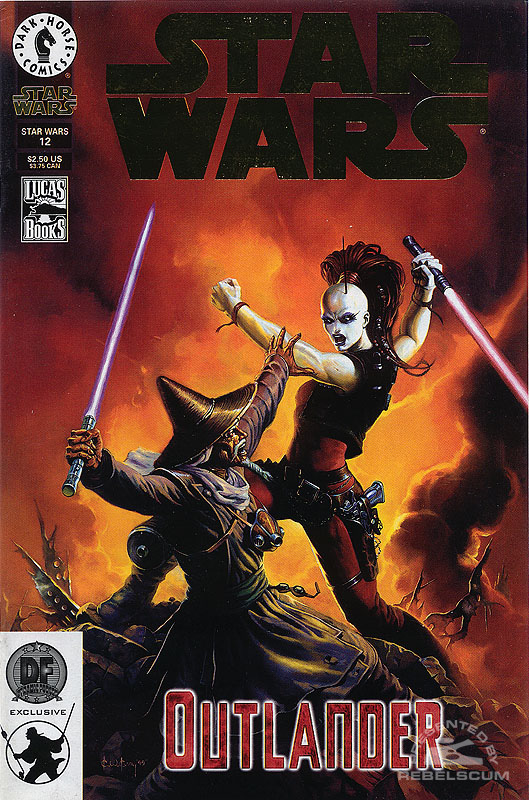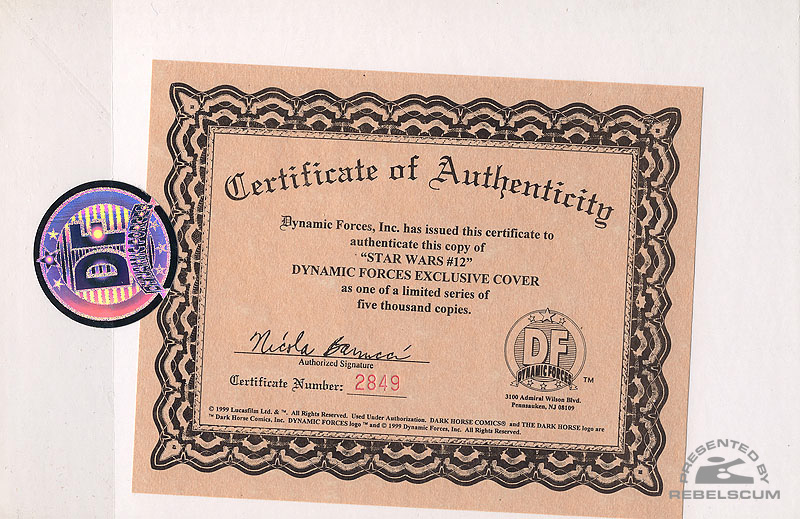 In Emissaries to Malastare, Tim Truman is joined by Tom Lyle and Robert Jones, as the Jedi Council travels to Malastare to negotiate a peace treaty. Ki-Adi Mundi, A'sharad Hett, Even Piell, Mace Windu, Plo Koon, Adi Galia, and Yaddle arrive just in time for the pod races. The first issue also features a training sequence between A'sharad Hett and the Dark Woman, and a look at a special ceremony of the Jedi Council. With cameo appearances by Anakin Skywalker, Sebulba and the pod racers, this remains one of the most fun-filled stories to date.

The last two issues actually read like a brand-new story altogether, including a change in the art team. John Nadeau and Jordi Ensign return as Mace and Depa Billaba travel to Nar Shadda to confront the Circus Horrificus. Look for cameos by Vilmarh Grahrk, Sebulba, Malakili, and the introduction of Quinlan Vos. Covers for this series are by Mark Schultz and Jan Duursema.
The series changes completely with Twilight, as Quinlan Vos takes the spotlight. The trouble is, he has no memory of who he is. John Ostrander, Jan Duursema, and Rick Magyar take a background character from The Phantom Menace and turn him into one of the most intriguing characters in the Expanded Universe. As Vos struggles to regain his memory, he teams up with Vilmark Grahrk ("Villie") as the unlikely duo unravel a drug smuggling plot that runs all the way to the senate. Featuring cameos by Bib Fortuna and Mace Windu, this storyline is a must-have for EU collectors.
Quinlan Vos once again takes center stage in Infinity's End by Pat Mills, Ramon F Bachs, and Raul Fernandez, with covers by Andrew Robinson. This storyline brings to comics the rancor-riding Witches of Dathomir, as Vos is sent to investigate strange occurrences on the planet. But with Vos still recovering from his brush with the Dark Side of the Force from the previous story, he might be useful as an ally than a slave.
Doug Petrie, Randy Green, and Andy Owens introduce Yoshi Raph-Elan in this stand-alone issue titled Starcrash. Yoshi is forced down on the planet below and finds himself taking part in an ancient prophecy.
In The Hunt For Aurra Sing, Tim Truman returns to the character he helped establish, as the Jedi track down Aurra Sing to answer for her crimes. Ki-Adi-Mundi, A'sharad Hett, Adi Gallia and the Dark Woman (Aurra's former master) confront the assassin, only to become involved with a Quarren smuggling operation. A'sharad confronts the woman who killed his father, but defeats her only by turning dangerously close to the Dark Side himself. At the end of the story, A'sharad leaves Ki-Adi-Mundi to train with the Dark Woman, and Aurra Sing escapes. Artwork for this storyline is by Davidé Fabbri and Christian Della Vecchia, with covers by Jon Foster.
Quinlan Vos returns in Darkness by John Ostrander, Jan Duursema, and Ray Kryssing. Joined by Villie, Zao, T'ra Saa, and Vos's former Master Tholme, the group travels to the prison planet Kiffex and run afoul of the evil Anzati Jedi Volfe Karkko, who has enthralled Aayla Secura under his power. It was this series that made George Lucas decide to add Aayla in Attack of the Clones, once he saw the Jon Foster cover of the second chapter. Good thing she regains her memories at the end of this story, so she can fight for good.
As Aayla begins her re-training with the Jedi Council, they tell her of The Stark Hyperspace War, a conflict that took place fourteen years in the past. Iaco Stark's Commercial Combine cornered the market on the supply of Bacta, and to solidify their power, they have created a virus that pulls ships out of Hyperspace at random places, most often with disastrous results. The Jedi enter the battle with the padawan and master teams of Obi-Wan Kenobi/Qui-Gon Jinn, Quinlan Vos/Tholme, and Plo Koon /Tyvokka, the Wookiee. The artwork for this series was by Davidé Fabbri and Christian Della Vecchia, with covers by Jon Foster, Jan Duursema and Dave McCaig.
Vilmarh Grarhk, the scoundrel known as Villie, has been appearing in many of the comic books in the Dark Horse line, but he always played a second fiddle role to his lucky Jedi Quinlan Vos, and most often in the role as a villain. But this series presents The Devaronian Version of those events, with his own unique spin on things, recounting his role in previous issues and also in the Jedi Council - Acts of War limited series. Complete with flashbacks of the actual events that occurred with cameos by Qui-Gon, Obi-Wan, Darth Maul and Darth Sidious, this hilarious tale is brought to you by John Ostrander, Davidé Fabbri and Christian Della Vecchia, with covers by Kilian Plunkett.
The final storyline of the series was Rite of Passage, by John Ostrander, Jan Duursema, and Ray Kryssing, with a cover assist by Dave McCaig. The opening flashback tale of a young Quinlan Vos and Aayla Secura as they face off against a Wampa is just the start of this tale of deception, political assassination, and loyalty by the Jedi. On Ryloth, a royal heir has been kidnapped, along with Jedi Master Tholme, who was protecting the boy. A father and son team of Morgukai assassins stand in the way are are ready to go toe-to-toe with Jedi. But behind it all are the machinations of the notorious Count Dooku!

At the end of this series, Quinlan is promoted to Jedi Master, and Aayla is promoted to Jedi Knight, setting the stage for Attack of the Clones and the Clone Wars.
Since each storyline is presented as a small "series within a series", it is the perfect format to be collected into a series of trade paperbacks. There are still a few stories left to reprint in this format, but here's a look at all that have been released thus far.
While the stories were well-received by the fans, a growing demand rose that forced Dark Horse to create a second ongoing monthly series, this time set in the era of the original trilogy (Star Wars: Empire). So, with issue #46, the series changed titles from Star Wars to Star Wars: Republic, signifying the differences in the timeline.
Back to Dark Horse Comics | Continue to Star Wars: Republic