See all the figures together!


BONUS PIT DROIDS


Source: (The Phantom Menace)



Year: 1999

Collection: 1-3

Retail: $9.99

Jedi Master Points: 10 Points

Assortment: Bonus Pit Droids

Assortment Number: 84085

Packaging Variations:

None


Weapons and Accessories:

Storage Locker
OR
Power Converter
Pit Droids: Small in stature and mechanically adept, pit droids scurry to service Podracers in the height of competition.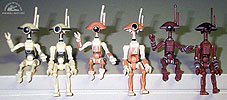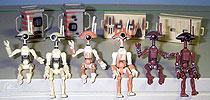 Comments: When the Commtech Card Episode I cards came out, not all countries wanted to get involved with the Commtech offering. Some countries, primarly Asian, offered figures with an included bonus Pit Droid instead of the Commtech chip.
There are five different figures, each with three different Pit Droids. There are a total of 15 different cards in this set.

Back To Episode I