THEED GENERATOR COMPLEX


Source: (The Phantom Menace)



Year: 1999

Retail: $19.99

Jedi Master Points: 20 Points

Assortment: Playsets

Assortment Number: 84055

UPC Number: 7693026222

Packaging Variations:

None


Weapons and Accessories:

Exclusive Battle Droid
Retractable Ramp
Catapult Platform
Spinning Battle Stand
Exploding Control Panels with 2 Firing Projectiles
Comments: The adventure continues with this exclusive playset from Star Wars: Episode !! Authentically styled with incredible detail, the Theed Generator Complex captures all the suspense of the fierce lightsaber battle between Darth Maul and Jedi Qui-Gon Jinn and Obi-Wan Kenobi!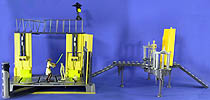 Back To Playsets