SPIRIT OF THE REBELLION
2004 Convention Exclusive


Source: (A New Hope)

Year: 2004
(Convention Exclusive)

Assortment: Bust-Ups

Limited Edition: 5000 sets

Retail: $20.00

Accessories:

Certificate of Authenticity
Availability:

San Diego Comic-Con International, July 21-25
Wizard World, Chicago, August 13-15
Comments: Gentle Giant will be offering the Limited Edition Spirit of the Rebellion 4-pack of its new Bust-Ups line that will include clear versions of Luke Skywalker, Han Solo, Princess Leia, and C-3PO. The entire 4-pack will retail for $20.00 USD and will be limited to 5000 sets.
Comic Con International San Diego - July 21-25, 2004 Spirit of the Rebellion 4-pack - 600 pieces allocated for every full day; 300 pieces allocated for Preview Night
Wizard World Chicago - August 13-15, 2004 Spirit of the Rebellion 4-pack - 600 pieces allocated for every full day.
The remaining quantities of each piece will be made available exclusively online to members of Gentle Giant's Collector's Club after the shows.
The following measures were in effect in an effort to make the exclusives as widely available as possible:
Exclusives were sold on through a raffle system.
Exclusives were limited to one of each per adult.
Badges were punched with a Gentle Giant logo for purchases of Luke Skywalker in Stormtrooper Disguise.
Attendees with punched badges were not be allowed to purchase additional exclusives.


Point of Interest: Of the 5,000 sets produced, 500 "glow-in-the-dark" sets were made as a hidden variant. The only way to know if you've got one of these sets is to open up the box! To see what happens when you turn out the lights, simply roll over the image below.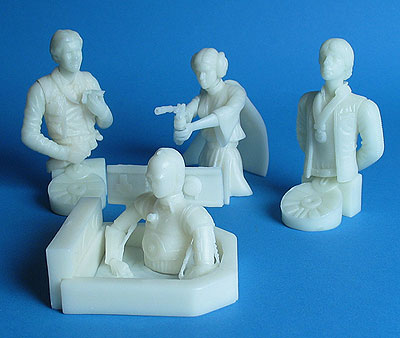 Back To Bust-Ups