IMPERIAL FORCES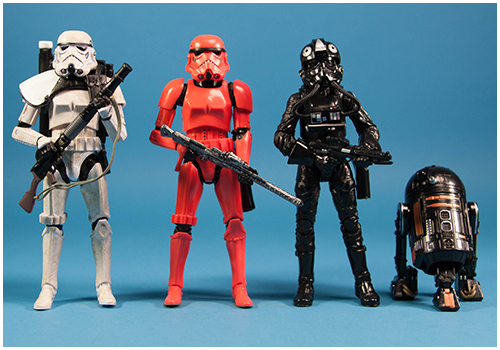 The Black Series Entertainment Earth Exclusive
SANDTROOPER SERGEANT: Imperial Sandtroopers carry out the will of the Emperor in the harsh, arid environments of the galaxy's desert worlds.
CRIMSON STORMTROOPER: Specially trained for operations in the extreme temperatures of volcanic areas, these crimson-clad Stormtroopers stay cool in the heat of battle.
LIEUTENANT OXIXO: Lt. Oxixo piloted one of the four TIE Fighters shot down while pursuing the Millennium Falcon during its escape from the Death Star before the Battle of Yavin.
R2-Q5: Entrusted with the secrets of the Emperor himself, this Imperial R2 unit once thwarted a plot to turn every droid aboard the second Death Star against the Empire.
Revealed right here on Rebelscum when it first went up for pre-order in time for the Force Friday event, September 4th, 2015, this Entertainment Earth exclusive set features four figures all making their debut in The Black Series. This set began shipping near the ned of the following November.
SANDTROOPER SERGEANT
CRIMSON STORMTROOPER
LIEUTENANT OXIXO
R2-Q5

Product Information
Manufacturer:
Hasbro
Year:
2015
Original Retail:
$99.99
Product Number:
B4007
UPC Number:
6 30509 37864 7
What's In The Box?
Sandtrooper Sergeant Action Figure
White Pauldron
Backpack
BlasTech E-11 Blaster
BlasTech DLT-19 Heavy Blaster Rifle
BlasTech T-21 Repeating Blaster Rifle
Crimson Stormtrooper Action Figure
BlasTech DLT-20A Blaster Rifle
BlasTech E-11 Blaster
Lieutenant Oxixo Action Figure
BlasTech E-11 Blaster
R2-Q5 Action Figure
About This Set
Text, Photography and Page Built by Adam Lamping
comments powered by

Disqus