EARLY BIRD JUMBO FIGURE 4 PACK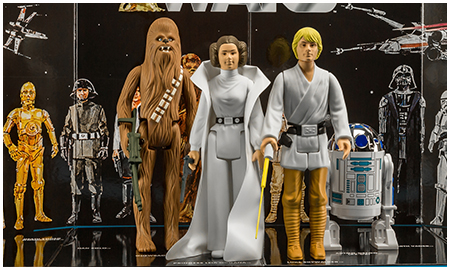 40th Anniversary Limited Edition Set
Since 2010, Gentle giant Ltd. has been expressing the love of their childhood toys via the Jumbo Star Wars line. Gentle Giant's Jumbo line launched as a single exclusive figure at Star Wars Celebration V as part of the 30th anniversary of The Empire Strikes Back. That original release was the first Stormtrooper Jumbo on a Empire Strikes Back card back. Since that time Gentle Giant Ltd. has released almost 70 figures, including the original twelve, the Bounty Hunters, a Jumbo Tampa and significant variations from the vintage figures. Previous releases have included figures from all three films in the original trilogy, The Power Of The Force line extension, and even the Droids animated series figure line. And, there is no end in sight!
Gentle Giant Ltd. is releasing the Jumbo Early Bird set as part of the celebration of Star Wars' 40th anniversary as a perfect jumping in point for new Jumbo collectors and as a great centrepiece for current Jumbo collectors. This deluxe-boxed set features a foil stamped cover flap, a flocked inner tray to protect the figures and great retro-style packaging. In addition, all the figures have been updated from their previous releases to reflect the details of the original Early Bird set, such as: darker blue paint on R2's dome and a sticker more accurate to the original materials, Leia has her blue blaster, Chewbacca has his green-isa bow-caster and for the first time ever in the history of the Jumbo line, Luke has a double-telescoping Lightsaber! The Gentle Giant Star Wars Jumbo Early Bird set is perfect for those "Early Birds" that want to re-live the experience and those that might not have been "early" enough!
The Early Bird Jumbo Figure 4 Pack was first put on public display in the Gentle Giant Ltd. booth at the 2017 San Diego Comic-Con. This set featuring tweeted reissues of four popular Jumbo Kenner figures, came in deluxe packaging that included a beautiful 1/6 scale recreation of the original classic Kenner Early Bird display backdrop printed on surprisingly heavy chipboard. this set started shipping to collectors in January, 2018.

Product Information
Manufacturer:
Gentle Giant Ltd
Collection:
Jumbo Kenner Figure
Year:
2018
Original Retail:
$279.00
Item Number:
80793
UPC Number:
81417 6 02250 2
What's In The Box?
Luke Skywalker Jumbo Figure
Double Telescoping Lightsaber
Princess Leia Organa Jumbo Figure
Blue/Black Princess Blaster
Artoo-Detoo (R2-D2) Jumbo Figure
Chewbacca Jumbo Figure
Green Bowcaster
Sticker Sheet
Space Club Card
Stormtrooper Card
Han & Chewie Card
Relive The Movie Card
Text & Photography by D. Martin Myatt
Page built by Adam Lamping
comments powered by

Disqus