HAN SOLO & PRINCESS LEIA ORGANA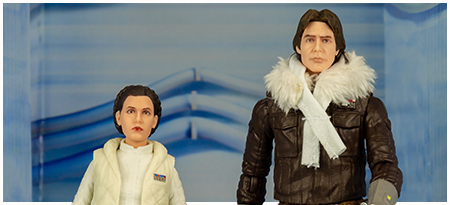 The Black Series
"You didn't see us alone in the south passage. She expressed her true feelings for me."
- Han Solo / Star Wars: The Empire Strikes Back
Han Solo may just be a scruffy-looking nerfherder in a hooded brown jacket, but in matters of love, he knows the truth about Princess-turned-Rebel-leader, Princess Leia, and the affection she holds for him. Or so he thinks.
In the icy south passages of the Rebel Alliance's Echo Base on Hoth, the two allegedly exchanged warm words confessing their feelings for one another. However, when Solo mentions this to Chewbacca and Luke Skywalker, Leia brushes him off and kisses Luke to prove that the so-called feelings she shared are nothing but bantha fodder.
Still, as the battle against the Empire wages on, it becomes clear that Leia has a soft spot for sounders, and Han has his own true feelings for "her worshipfulness." While the two begin to earn their respective reputations as heroes for the Rebellion, they come to discover that sometimes in love, It's just about knowing.
The Han Solo & Princess Leia Organa two pack featured on this page was announced during Hasbro's panel at the 2018 San Diego Comic-Con as the first exclusive they would be offering overseas first. It was made available at the 2018 Noris Force Con (Germany) for £49.99, followed by 2018 MCM London Comic Con (England), 2018 Comic Con Paris (France), and 2018 Lucca Comics & Games (Italy). North American pre-orders began on November 6th, 2018 and began shipping only a few weeks after.
This set includes a repack of the previously released 75 Princess Leia Organa (Hoth) and a repainted hit bash that utilized the previously released figure included in the Han Solo & Tauntaun set and the head from the 70 Han Solo (Bespin) to offer for the first time in The Black Series 6-inch line Han Solo in his proper brown parka.

Product Information
Manufacturer:
Hasbro
Source:
The Empire Strikes Back
Year:
2018
Original Retail:
$49.99
Assortment Number:
E1630
UPC Number:
6 30509 66693 5
What's In The Box?
Han Solo Action Figure
BlasTech DL-44 Heavy Blaster Pistol
Removable Utility Belt
Fabric 'Hood'
Princess Leia Organa Action Figure
DH-17 Blaster
Thermal Vest
Welding Goggles
Welder
Text & Photography by D. Martin Myatt
Page Built by Adam Lamping
comments powered by

Disqus