Words & images by D. Martin Myatt & Nick Napoli
July 18 - 22, 2018
The Rebelscum team hit the 2018 San Diego Comic-Con with cameras and notebooks in hand continuing our tireless efforts to leave no fan behind. Below is a complete overview of all we saw and did at the event. Scroll down to check out what was announced and shown!
ANOVOS
You Won't Be Able To See A Thing In Four Awesome New Wearable Collectible Helmets!
ANOVOS revealed the next four pieces in their
Star Wars
wearable helmet collection including the Imperial Patrol Trooper, Mimban Stormtrooper (which will be offered both clean and filthy),
Rogue One
Imperial Stormtrooper (Which is insanely cool!), and the Republic Clone Trooper Phase II helmets.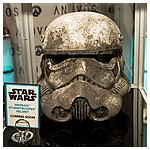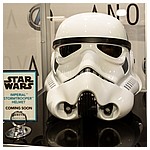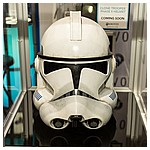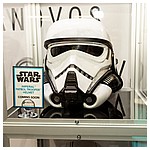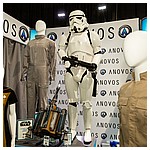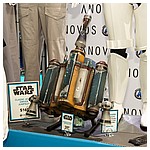 Click here for the full gallery of the ANOVOS Booth
BANDAI SPIRIT HOBBY
The company We Knew As Bandai Hobby Continues To Impress After Rebranding!
Bandai Spirit displayed many of their
Star Wars
model kit figures, including General Grievous, a phase II Clonetrooper, Imperial Stormtrooper, Darth Vader, Boba Fett, Han Solo & Luke Skywalker in Stormtrooper disguises, Imperial Shoretrooper, K-2SO, Kylo Ren, First Order Stormtrooper, Captain Phasma, and C-3PO & R2-D2 with bonus BB-8. The unmasked Han and Luke heads were displayed to illustrate Bandai Spirit's new paint application technique.
Their
Star Wars
model kit vehicles display revealed the Death Star II & Star Destroyer and Lando Calrissian's Millennium Falcon kits. The latter's escape pod is removable and panels can be removed to reveal the ship's living quarters.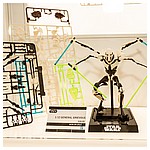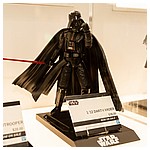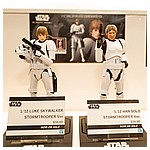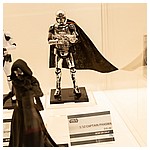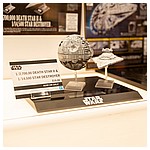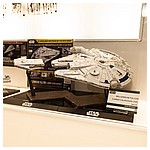 Click here to view the full Bandai Spirit gallery
BEAST KINGDOM
Attack Of The Eggs Jango Fett!
With nothing new at their own booth, we trekked over to the Diamond Previews booth for our Beast Kingdom
Star Wars
Egg Attacks fix. There we found the first North American public display for the Jango Fett figure as well as other upcoming Beast Kingdom
Star Wars
Egg Attacks (most of which have been seen at the
2018 International Toy Fair
) including the translucent Stormtrooper, holiday R2-D2, silver Deathtrooper, and gold Shoretrooper. In addition, we found the final production
The Empire Strikes Back
Boba Fett at both booths, but since it was being sold at the Beast Kingdom booth, it came as no surprise. Eagle eyed collectors will note Boba Fett gloves are the wrong color, which is odd since they are correct on the package...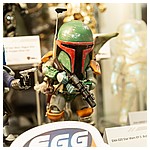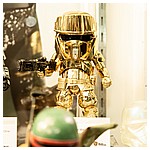 Click here to view the full Beast Kingdom gallery
EFX COLLECTIBLES
Again With The Star Destroyer... (YES!!!)
EFX Collectibles displayed
The Force Awakens
Darth Vader helmet, the Death Star "High Altitude" Surface Modules Set No. 1, Poe Dameron X-Wing Fighter, Biker Scout helmet, Legendary Darth Vader helmet, chrome Darth Vader helmet, Legendary Stormtrooper helmet, chrome Stormtrooper helmet, the massive Imperial Star Destroyer, Millennium Falcon, Y-Wing Fighter, and AT-ST Walker.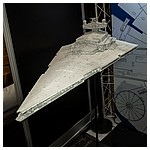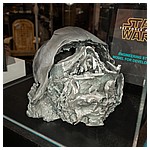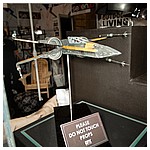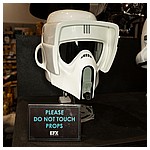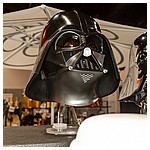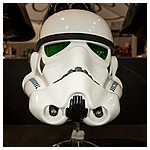 Click here to view the full EFX Collectibles gallery
GENTLE GIANT LTD
Burbank's Gentle Giant Kicked San Diego Comic-Con's Butt With So Many Awesome New Offerings!
Our first look of the Gentle Giant Ltd. booth was full of surprises. There were many new collectibles on display for the first time including Dengar Collector's Gallery statue, Han Carbonite Collector's Gallery statue, Dagobah Darth Vader Collector's Gallery statue,
Star Wars
Show 100th Episode Statuette,
Rebels
Ashoka Tano mini bust, and the first public showing of the Han Solo and Chewbacca
Solo: A Star Wars Story
mini bust, Amanaman mini bust, Princess Leia Bespin mini bust, First Order Executioner 1/6th scale statue, Bib Fortuna jumbo, and Princess Leia Organa (Bespin Gown) jumbo.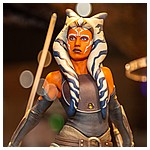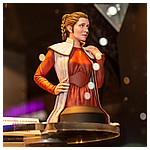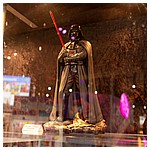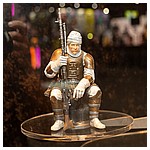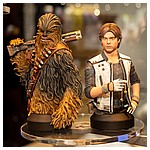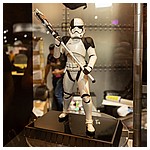 Click here to view the full First Look At Gentle Giant gallery
Gentle Giant Ltd's Boba Fett Mini Bust!
They say timing is everything when it comes to a joke, but no one was laughing when Gentle Giant Ltd. wasn't able to finish their presentation at the 2018 San Diego Comic-Con
Star Wars
Collector Panel...
While time wasn't on their side at the 2018 San Diego Comic-Con
Star Wars
Collector Panel, Gentle Giant Ltd. still presented the Animated Holiday Boba Fett Mini Bust that was intended to be the big reveal in their presentation at the
Star Wars
Collector Panel.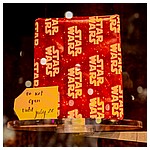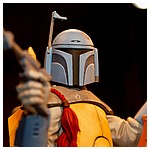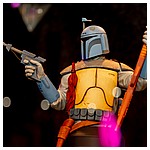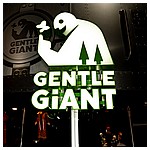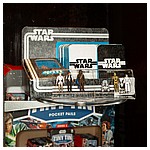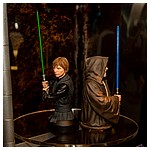 Click here to view the full gallery
A Very Close Look At The New Gentle Giant Collectibles!
As the dust settles and our event workload becomes less overwhelming, we tend to take the time to focus on creating closer look galleries. In the case of the new items on display in the Gentle Giant Ltd. booth, we were able to take turn around shots. The gallery linked below represents the exclusive first looks!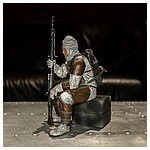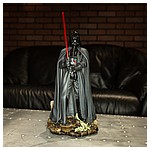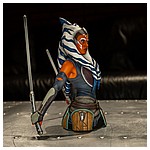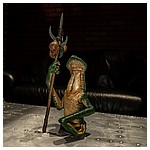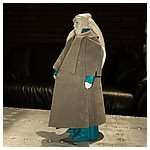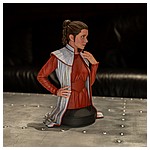 Click here to view the full turn around gallery
HALLMARK
One Of The Harder Booths To Gain Access Past The Crowds Was Hallmark's, But After Many Attempts We Made It...
Nestled in the busy corner of the 2018 International San Diego Comic-Con Lucasfilm Pavilion was the Hallmark booth. After days of trying we were finally able to get past the crowds looking to add the popular brand's exclusives to their collections to snap all the new stuff on display including many sneak peeks showing off what's to come.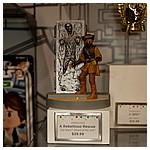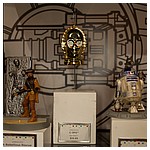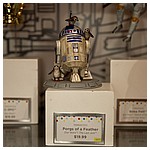 Click here to view the full Hallmark gallery
HASBRO
The Doors Aren't Open. The Crowds Are Still Outside. That Can Only Mean One Thing: Time For the First Look At The Hasbro Booth!
As expected, there weren't any new reveals in the Hasbro booth for preview night, but there were a lot of first publicly displayed items display including
The Vintage Collection
3.75-inch Klaatu (Skiff Guard) and Saelt-Marae (Yak Face) figures,
The Black Series
6-inch Val (Vandor) and L3-37, and the
Star Wars Universe Force Link 2.0
3.75-inch Han Solo, Qi'ra, Weazel as they appeared in Vandor along with the repacked Range Trooper. Also new was the 12-inch Enfys Nest.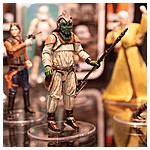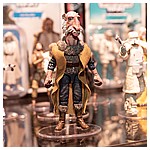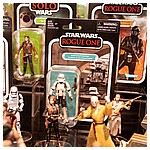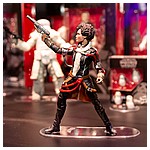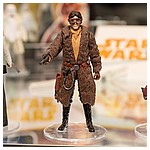 Click here to view the full first look gallery
It Wasn't All Just Pancakes And Bacon At The Hasbro Breakfast...
Hasbro's annual preview breakfast gave us our first look at
the Black Series
Imperial Patrol Trooper 6-inch and
The Vintage Collection
Enfys Nest 3.75-inch action figures. Also on display were packaged Princess Leia Organa (Hoth), Dengar, L3-37, Val (Vandor-1), and the Patrol Trooper as well as some upcoming Mighty Muggs.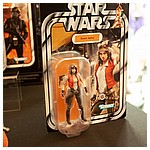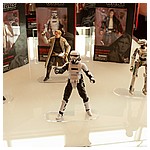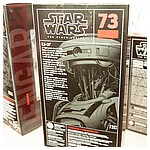 Click here to view the full Hasbro Breakfast gallery
Everything You Could Want Was Revealed At Hasbro's Star Wars Panel!
Back in the day, Friday was known as
Star Wars
day at the San Diego Comic-Con, but since the Disney purchase and their interests in keeping the big stuff for D23, the Force at SDCC isn't as strong as it once was. That said, the
Star Wars
collecting panels still fall on that day year after year. Hasbro came with their Force FX Lightsabers in hand as Steve Evans, Steve Bono, Patrick Schneider, Joe Ninivaggi, Sarah Carroll, and Lucasfilm's Chris Dern hit the stage.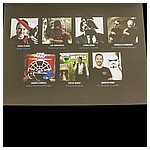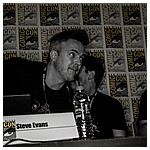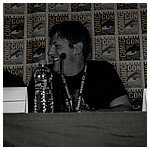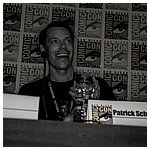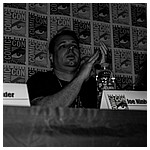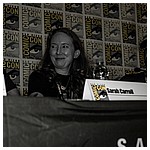 Haslab
At the top of the panel, Hasbro expressed their gratitude and excitement for the Khetanna Sail Barge hitting its target. One lucky young member of the audience was given a free Sail Barge. While he won't have to pay anything for Jabba the Hutt's 3.75-inch pleasure vessel, he's going to have to wait just like the rest of us.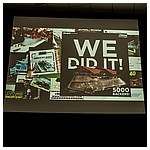 Convention Exclusives
Hasbro spoke to the rest of the world to share some appreciation of global collectors and their struggles getting convention exclusives. They said that there will be convention exclusives coming to Europe soon, all of which will also be made available via some channel to the U.S. collectors as well.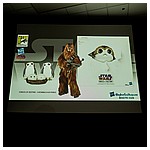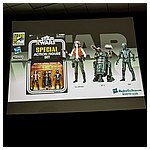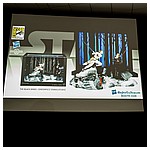 Micro Force
As the slideshow moved forward, Hasbro gave us a peek at
Micro Force
series 5 and 6 blind bags and expressed excitement about adding vehicles to the line. Each will feature a secret secondary functionality.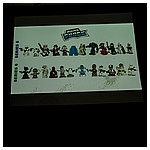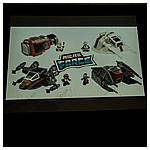 Mighty Muggs
The next assortment of
Mighty Muggs
line will #17 Jyn Erso, #18 K-2SO, #19 Darth Maul, #20 Wicket the Ewok, #21 Obi-Wan Kenobi, and #22 Luke Skywalker X-Wing Pilot. Like the previous waves, each
Mighty Mugg
figure features three spring loaded facial expressions.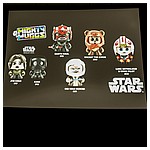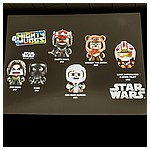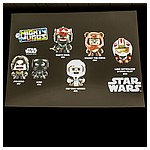 Star Wars Universe 3.75-Inch Collection
Moving past the stuff not action figures, the panel got way more interesting as they began discussing the
Star Wars Universe
3.75-inch action figure collection. Hasbro revealed the lineup for the third wave of single carded figures which includes Tobias Beckett, Rio Durant, Han Solo (Mudtrooper), Val, L3-37, and Quay Tolsite. Answering the fan demand for play and display environments, Hasbro found a cost-efficient solution with two "playboard" playsets from
Solo: A Star Wars Story
. The Kessel (with Han Solo) set will retail for $30 exclusively through Walmart while the Vandor-1 (with Chewbacca) set will retail for $40 exclusively at Target.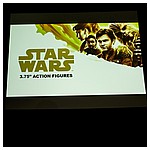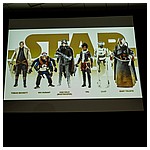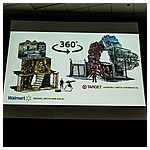 The Black Series
With the twentieth anniversary of
The Phantom Menace
coming in 2019, not to mention the second
Star Wars Generation
hitting the work force and finding themselves with expendable income, Hasbro intends to put a stronger focus on prequel-era characters for upcoming waves in
6-inch action figure line. In addition, collectors can expect to find Force FX lightsabers based on Obi-Wan Kenobi's original elegant weapon, along with Mace Windu's, and Darth Maul's. The latter will be packaged as a single blade version and include an adaptor to attach two together for the full double bladed weapon the Sith Lord used throughout most of Episode I.

As the slides progressed, Hasbro revealed many figures that drove the attending audience crazy, including two new Rebels additions to The Black Series. Both Ezra Bridger (which features neck articulation not dissimilar to that used on the 70 Han Solo (Bespin) figure) and C1-10P (Chopper) will continue the realistic style seen on past releases. The plucky little Astromech will feature every conceivable point of articulation and a switch out third wheel and thruster with flame base!

Putting American collectors nerves at ease, Hasbro announced the Canadian Toys "R" Us Captain Phasma (Quicksilver Baton) figure will be released Stateside as a Disney Store exclusive. Moloch figure will be coming to Target in a paged roughly the same size as the Gamorrean Guard. Previously leaked General Veers is coming to Walgreens. Princess Leia Organa (Bespin Escape) is coming to Target. Lastly, Zuckuss (formerly slated as a Toys "R" Us U.S. exclusive) is coming to the Disney Store on November 1st.

Hasbro then announced a new initiative we can all get behind: the Black Series Archive. The line will feature redecoed hard to find previously released figures. This new line will give collectors a second chance at between four and eight blister carded figures. The photo real deco now used in the line will be applied to human faced characters moving forward, starting with the Luke Skywalker X-Wing Pilot in the first wave.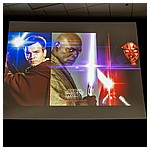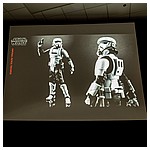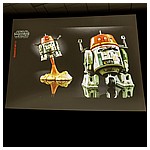 The Vintage Collection
While unofficial word leaked days earlier, Hasbro officials announced The Vintage Collection big TIE Fighter. The release will be sold exclusively at Walmart in fall. The slides that followed confirmed the next wave of single carded figures would include rereleases of the Scarif Stormtrooper (AKA Shoretrooper), Elite Praetorian Guard, Darth Revan, along with a kit bashed Imperial Stormtrooper that checks off every box. This assortment will also feature debut releases of the Solo Lando Calrissian and Rogue One Death Star Gunner. After these announcements, Hasbro dropped an atom bomb on the audience by announcing that The Vintage Collection will feature Photo Real paint applications in 2019!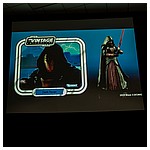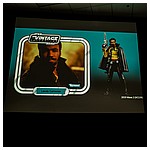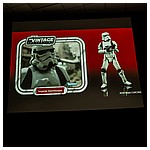 Distribution
Starting in 2019, Hasbro will be adjusting their waves to help improve distribution. There will be less waves and more new figures per case. Read: less repacks. Since it takes between twelve to eighteen months for issues to be discovered and addressed, this new strategy won't take root until next year.

Future Reveals
Hasbro reiterated that reveals of other action figures are coming soon but you will have to tune into other conventions to hear about them. They highlighted New York Comic Con, FanExpo in Canada, and Unboxing Toy Convention in Mexico City. Naturally, you'll find coverage of all these announcements right here. Hasbro has done an amazing job to stop leaks and in doing so have made collecting much more adventurous and fun. WE commend their efforts to keep things under wraps until we find them at retail. Good on you Hasbro!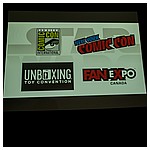 Q&A Session
-Someone asked about the release of the Black Series Rio Durant. Hasbro said it will be available in the December 1st wave with a retail price of $19.99.

-Fan polls are still a possibility for the future but right now Haslab seems to be the vehicle to engage the fans.

-There are plans for The Clone Wars toys and Steve Evans is soliciting input. Read: Open Your Mouth And Say... T.C.W. (if you caught that reference you don't ever have to show us your Punk Pass)

-There was a strong hint that the Black Series Garazeb Orrelios reveal is coming soon.

-No further information on when the Canadian the Black Series Stormtrooper with blast accessories will be available in the U.S. (psst... It will be at the Disney Store -the 'Scummer team)

-Someone asked if Hasbro would consider producing the Black Series R2-D2 without mold lines on the dome as part of the Archives series, and Hasbro said they would consider it. We will never know why the dome lines were the deal breaker and not the odd scale, but what do you do.

-Legends figures are still being considered as Hasbro aims to balance core characters with niche and comic characters but fans should not expect a whole line of Legends.

-There was a strong hint that the Black Series Doctor Aphra will be officially announced soon.

-Lastly, former 'Scummer Adam Pawlus took the Q&A mic (quite the meta moment really) to let attendees know that after the panel the Star Wars Universe Maz Kanata Hologram multi-pack previously exclusive to Canadian Toys "R" Us stores, would be available to the U.S. through Entertainment Earth..

Click here to view the full Hasbro Star Wars Panel gallery


Post-Panel Product Reveals And Q&A
We asked about some clarifying points regarding the reveals and just chatted a little about what is currently on the minds of the Hasbro team. Regarding the price point for the new realistic face deco for The Vintage Collection, Hasbro assured us it will remain the same. One more time, no increase in price with the new paint deco.

The release target for the first wave of the Black Series Archives line is the first quarter of 2019. Hasbro reps said they are very excited about this new line; as are we!

Regarding the new playsets, the focus for now is for the 3.75-inch standard line. They are interested to see if folks use it for displaying The Vintage Collection figures though.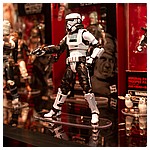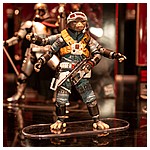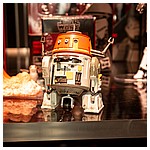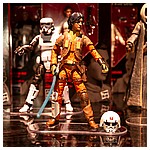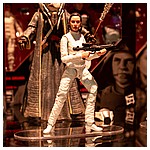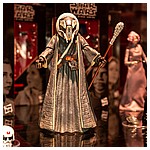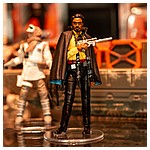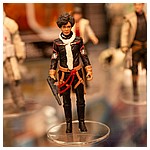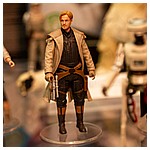 Click here to view the full Post Panel Turn Around gallery


HOT TOYS
Our First Look At The Hot Toys Display Left Our Mouths Agape...

Our first pass of the Hot Toys booth revealed new 1/6 scale Movie Masterpiece Series collectible figures including Princess Leia Organa (Bespin), Attack Of The Clones C-3PO, what looks like an ultimate R2-D2, Jango Fett, Airbourne Trooper, Captain Cody, and Darth Maul!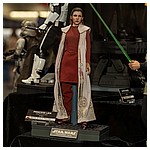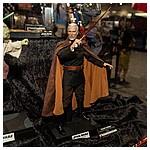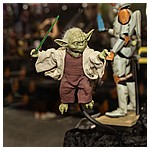 Click here to view the full first look gallery


But It Was The Closer Look At The Hot Toys Display That Brought Tears To Our Eyes.

With the show open to the public, we went back to the Hot Toys display to shoot a more complete and detailed look at all the Star Wars Movie Masterpiece Series 1/6 scale collectible figures. Click through to have a closer look!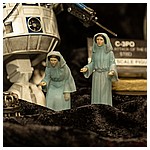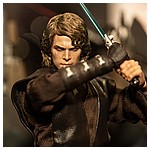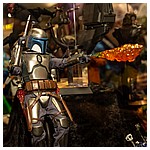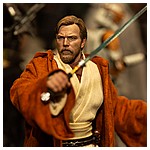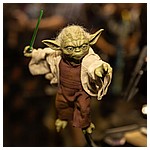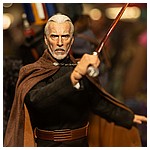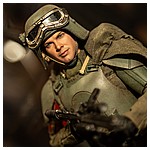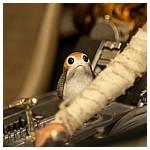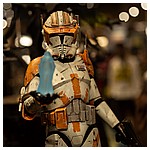 Click here to view the full second look gallery



KOTOBUKIYA
The Galaxy's Most Nefarious Bounty Hunters Target The ARTFX+ Line!

Kotobukiya is adding a build-a-statue bonus to the next wave of statues in the popular 1/10 scale pre-painted model kit ARTFX+ line. The collection will soon be offering statues based on Dengar, IG-88, Bossk, 4-LOM, and Zuckuss as they appeared in The Empire Strikes Back. Each will include additional parts that allows collectors that pick up all five kits to build a Boba Fett statue to complete the diorama!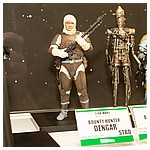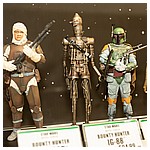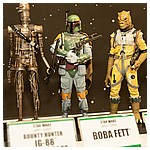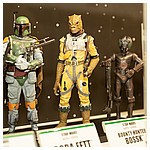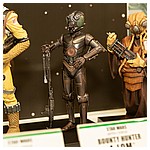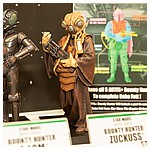 Click here to view the full Kotobukiya gallery



LEGO
Only Eagle Eyed Collectors Spotted The New Set Reveals In The LEGO Booth...

At first glance, the only Star Wars themed part of the LEGO booth was the life-sized Millennium Falcon cockpit but tucked in a wall display in the side of the booth, hidden by the never ending line of collectors seeking the Denmark brick maker's convention exclusives, were the 75211 Imperial TIE Fighter, 75215 Cloud-Rider Swoop Bikes, 75216 Snoke's Throne Room, 75217 Imperial Conveyex Transport, 75218 X-Wing Starfighter, 75219 Imperial AT-Hauler, and 75220 Sandcrawler.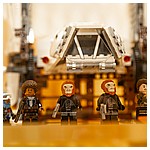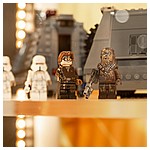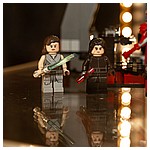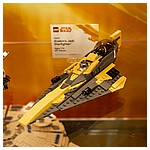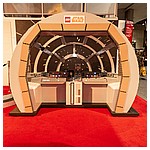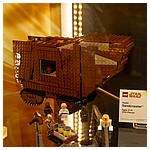 Click here to view the full LEGO gallery



MATTEL
New Diecast From A Galaxy Far, Far Away...

Among the small display of Star Wars products in the Mattel booth were the first public display of the Hot Wheels Elite Poe Dameron X-Wing Fighters, and the first assortment of vehicles in the Concept art collection, which includes diecasat vehicles based on the the original concept designs for the Millennium Falcon, TIE Fighter, X-Wing Fighter, Star Destroyer, and Landspeeder.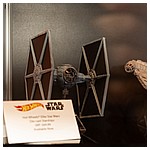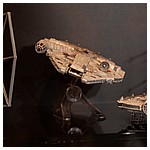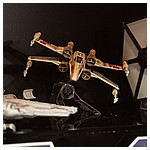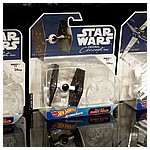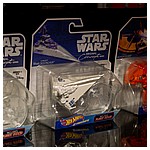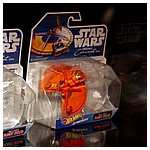 Click here to view the full Mattel gallery



PROP STORE
The Prop And Movie Memorabilia Auction House Displays Many On Screen Props And Costumes From A New Hope, The Empire Strikes Back, The Phantom Menace, Revenge Of The Sith, Rogue One, The Last Jedi And More!

For their 2018 San Diego Comic-Con display the Prop Store put out one of Han Solo's jackets and his welding goggles from The Empires Back, a very rough (clearly non-hero) Stormtrooper helmet from A New Hope, Anakin Skywalker's and Darth Sidious' hero Lightsabers from Revenge Of The Sith, Qui-Gon Jinn's stunt Lightsaber from The Phantom Menace, First Order Stormtrooper helmet form The Last Jedi, Jyn Erso and Cassian Andor's costumes from Rogue One and a couple of crew gifts to round it all off.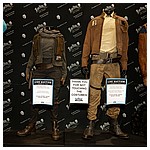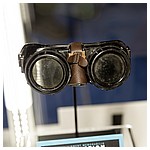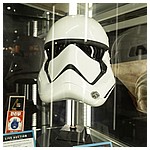 Click here to view the full Prop Store gallery



SIDESHOW COLLECTIBLES
No Matter What Scale Of High End Star Wars Stuff You Like, Sideshow Collectibles Had Something For You To Marvel At!

With the exception of The Empire Strikes Back Yoda, and Obi-Wan Kenobi and Boba Fett Sixth Scale figures, all the Star Wars products on display in the Sideshow Collectibles booth was put in one area. Included in the display was the 1:1 scale Death Trooper and BB-8, the Boba Fett, Darth Vader, and Yoda Legendary Scale Figures, Jabba The Hutt, Biker Scout on Speeder Bike, Return Of The Jedi Luke Skywalker, Obi-Wan Kenobi, Boba Fett, Darth Vader, Luke Skywalker, Princess Leia Organa, Jyn Erso, Han Solo, and Rey with BB-8 Premium Format Figures, and 1:1scale Darth Maul and Kylo Ren busts.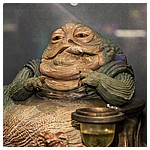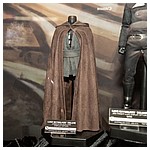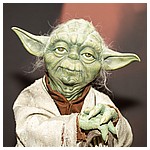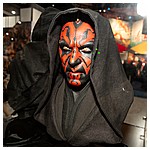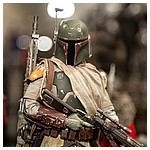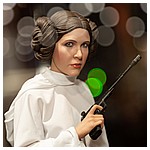 Click here to view the full Sideshow Collectibles gallery


Sideshow Collectibles Lando Skiff Guard Sixth Scale Figure!

While many Star Wars collectors attended the Star Wars Collector Panel at the 2018 San Diego Comic-Con, Sideshow Collectibles added the latest figure announce to their Sixth Scale Star Wars collectible figure collection. Scroll down to have a closer look at the upcoming Lando Calrissian (Skiff Guard Disguise) figure!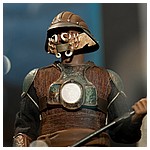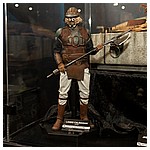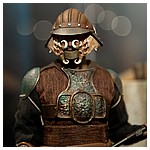 Click here to view the full Lando Calrissian gallery



THE STAR WARS COLLECTIBLES PANEL
Covering Multiple Star Wars Licensees With Not Enough Time To Cover Everything!

The 2018 Star Wars Collectibles Panel left a lot to be desired. With a limited amount of time available to each licensee featured at the panel, a lot of time was wasted showing slideshows of each companies' representatives as kids with Star Wars stuff. Looking at the products displayed in each of their booths, every person attending the panel already knows how passionate the people making the products are without having to see them playing with Star Wars stuff.

Sideshow Collectibles' Matt Bischof was first to take the mic and immediately announced the production of the Lando Calrissian in Skiff Guard disguise Sixth Scale figure and new Darth Vader Premium Format Figure.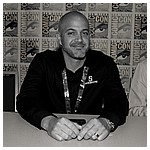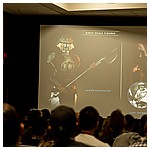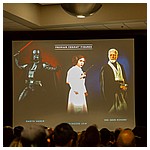 Making their SDCC Star Wars Collectibles Panel debut, Regal Robot's Tom Spina gave the audience an overview of the company's first year as an official Star Wars licensee, running through a gallery showing off some of the amazing things they already created, announcing the production of their Han Solo in Carbonite wall decor and Space Slug desk accessory, as well as hinted at their made-to-order 1:1 scale replica mask prop (even my crazy Aunt Ginny could see its Chewbacca).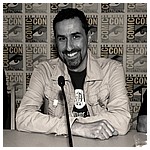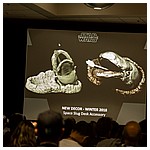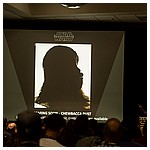 EFX Collectibles' Bryan Ono took the podium next and announced many cool new replicas including Rose Tico's Rebel Symbol revealing Resistance Ring, a new line of original trilogy Lightsabers, Dejarik Chess Table, and last but by no means least, a 1:1 scale Porg replica!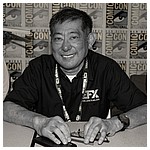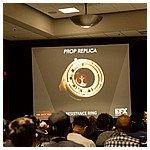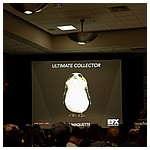 While Kotobukiya has been a part of this panel as far back as we can remember, their representative Kim Miller presented their products for the first time, and she killed it! After running through the Build-A-Fett ARTFX+ line, she announced the new Manga inspired ARTFX+ collection based on the work of popular comic cover artist Kamome Shirahama!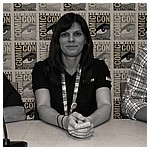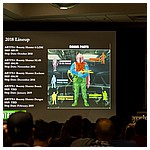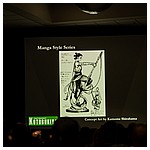 The dynamic duo of Jose Salcedo and Dana Gasser discussed the new Mimban Stormtrooper, Rogue One Imperial Stormtrooper, and the Republic Clone Trooper Phase II helmets on display in the ANOVOS booth before revealing the Imperial Patrol Trooper helmet prototype, which we insisted upon wearing after the presentation. Thankfully, this was the one prototype we didn't break while playing around with it. We're still amazed that companies let us play with their stuff. Our track record is terrible with this stuff...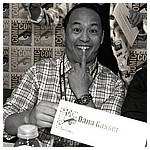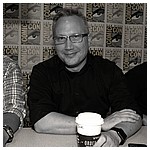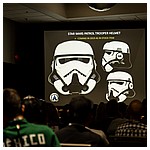 Tamashii Nations' Adam Newman discussed their insanely cool Meisho Movie Realization line and revealed the design for the C-3PO and R2-D2 figures (!) before handing the mic over to his Bluefin Distribution partner in crime...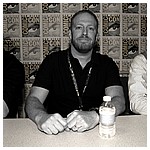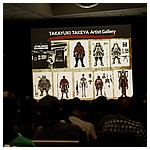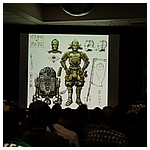 Benji from Bandai Spirit Hobby (formerly Bandai Hobby) enthusiastically ran through the model kits that are already available at many retail outlets before discussing the very cool new additions including the 1/12 scale figures and vehicle snapfit models in their booth.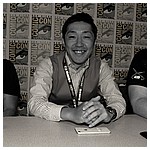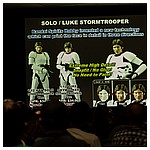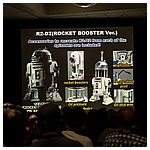 The panel was unceremoniously cut short before Gentle Giant's Daniel Pickett was able to get through even a quarter of his presentation. In the future we hope the organizers will not waste precious time on things other than product reveals and all presenters are given an equal amount of time to reveal their new products. It's rude to the presenters and insulting to the audience that lined up to attend the panel.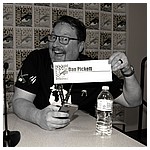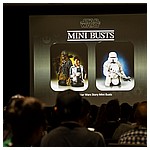 Click here to view the full Star Wars Collectibles Panel gallery



THE STAR WARS PAVILION
You Will Never find A More Inviting Hive of Swag and Novelty

Beyond offering a place for Star Wars licensees a place to offer their wares, Lucasfilm has used their pavilion to display costumes and props from the most current feature film, in this instance it was some of the costumes from Solo: A Star Wars Story. This year, LFL also included a great photo op station that allowed fans the opportunity to pose for a photo in a 1:1 scale replica of Lando Calrissian's Millennium Falcon cockpit. In addition to the licensees featured in the below linked gallery, EFX Collectibles and Hallmark were also a part of the pavilion, but in both cases we published separate galleries showing off their displays.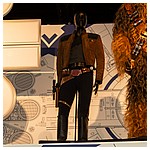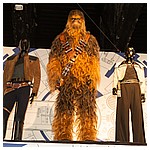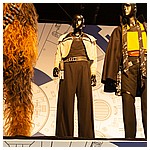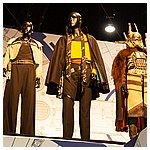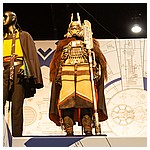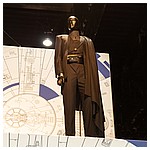 Click here to view the full Star Wars Pavilion gallery



TAMASHII NATIONS
The Next Piece In Tamashii Nations' Stunning Meisho Movie Realization Line Revealed!

By now, chances are good you know Tamashii Nations' Meisho Movie Realization is one of our favorite Star Wars collectible lines, so it should come as no surprise that we were very excited to see the upcoming Samurai General Kylo Ren 6-inch action figure on display in their booth. Scroll down to have a closer look at it and the other Meisho Movie Realization figures on display in their booth at the 2018 International San Diego Comic-Con!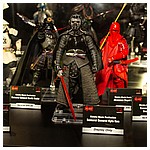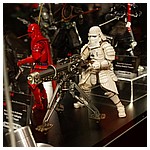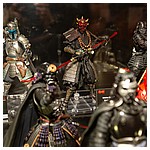 Click here to view the full Meisho Movie Realization gallery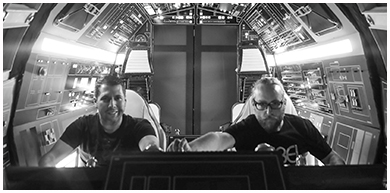 2018 San Diego Comic-Con Special Feature page edited by D. Martin Myatt. All text and all photographs on this page by D. Martin Myatt & Nick Napoli.