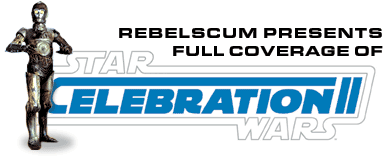 Hasbro


Hasbro had a great display set up for Celebration 2. The merchandise was presented in two sided metal cabinets so that conventioneers could see both sides of the product. The main façade had commercials playing on three giant screens with Hasbro designers giving away a free Saga 2002 action figure poster and small cards encouraging fans to vote for the next Fan's Choice figure poll. Other tables had them demonstrating various play features of toys. Interactive R2-D2 was being exhibited in a central enclosure to the wonderment of fans.
Some highlights were the giant Saga Card, which allowed fans to be a real live action figure by slipping inside the bubble and having a photo taken. The line for this was always long and many were having fun posing with a lightsaber or blaster or both. Sculptor David Vennemeyer allowed fans to see a toy being made right before their eyes as he sculpted upcoming figure releases of Jedi Knight Aayla Secura and Leia Unleashed. David, as well as other Hasbro representatives present for the event, patiently fielded questions and enthusiastically listened to fan feedback about the new line.
Most of the merchandise were already viewed at Toy Fair, but they did unveil a few goodies. Fan's Choice # 3 Ephant Mon was extraordinarily ugly and huge for a regular carded figure. The new Darth Maul Sith training has a cool probe droid accessory and EU vestements. Many collectors are loving the Deluxe C-3PO and Battle Droid 2 Pack which gives away a funny scene in the new film.
Other standouts at the Hasbro booth were the new 12" Ultimate Jango Fett and 12" Count Dooku. Featuring a new and improved G.I. Joe body and interchangeable hands for Fett, the detail and authenticity on the new 12" figures were amazing. Jedi Council member exclusives Mace Windu (TRU) and Ki-Adi Mundi (Fan Club) were also shown, as well as the KayBee exclusive 12" Clonetroopers (Red and Yellow Commander). The new Unleashed figures (Anakin, Jango/Boba, Vader, and Maul) and 10" Vinyl Roto Figures (Jango, Anakin, and Mace) were well-received assortments which introduced new concepts for the Saga line. The Unleashed figures included a pack in Star Wars TCG card.
Basic and Deluxe

12" and Beast
Unleashed and 10" Roto
Action Fleet
Prototypes
(Padme Pilot, Aayla Secura, and Unleashed Slave Leia)