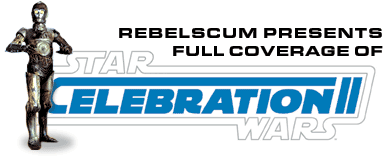 Hasbro
LEGO
Gentle Giant
Rubies
More Licensed Merchandise
Diorama Workshop
Prop Archive
Hasbro Q&A
C2 Image Cargo Hold

In 1977, Star Wars revolutionized the film industry with its timeless tale of good versus evil, coupled with groundbreaking special effects. George Lucas' epic space fantasy firmly entrenched itself in popular culture and spawned the mammoth licensing vehicle which opened up a new trend in movie merchandising. Twenty five years later, the saga celebrates its Silver Anniversary and the release of the latest installment in the franchise, Episode II: Attack Of The Clones. To mark the momentous occassion, Lucasfilm along with Wizards of the Coast and Hasbro, organizes an event in the mammoth Indianapolis Convention Center from May 3-5, 2002 dubbed Star Wars Celebration 2. The second event of its kind, following in the tradition of the first Denver Celebration for Episode I in 1999, C2 promises an experience like no other for fans of The Force. Featuring various exhibits and panels, autograph signings by your favorite Star Wars celebrities, a 25th Anniversary concert, art and memorabilia shows, and every imaginable aspect of fandom, including an exclusive action figure, Celebration 2 will be an event to remember. Team Rebelscum provides you with comprehensive coverage of the event beginning Friday. Don't forget to stop by our booth, sponsored by Ultarama, to say hello and receive your FREE limited edition collectible Rebelscum pin made by Pin USA! May The Force Be With You!
Downtown Indianapolis was virtually attacked by multitudes of Star Wars fans. The initial projection of 15-20,000 people per day based on advanced ticket sales was well surpassed, and reached critical mass on Saturday. The estimated final tally was a little over 75,000 people for the three day event. But Star Wars fans were undaunted by the long waits and packed hallways. Jedis, Stormtroopers, and many more costumed fans were everywhere to be seen as the Convention Center was transformed into a scene straight out of a busy Tatooine spaceport.
The two places that received the most traffic (and some notoriety) were the Fan Club store and the autograph section, specifically for Carrie Fisher. Everyone knew the exclusive Jorg Sacul X-Wing Pilot would be special, but little did they know that it would be a source of frustration for many. Lucasfilm fully intended to have this figure, as well as other C2 Logo merchandise, available only at the event. The goal was to ensure that fans attending the convention would be able to get the figure. But greed and opportunism tainted the event as some fans purchased much more than the 2 per person limit. Certain dealers even saw it fit to offer to buy figures right off of conventioneers hands at $20-30 a pop and then turn around to resell it for twice the amount. Even the plan to sell a fixed amount per day fell short…way short. Inventory that was supposed to be sold on Sunday was instead sold with the Friday stock, leading to immediate sellouts and the item completely gone by 9:30 AM Sunday morning. Needless to say, a good number of fans returned home without the elusive exclusive Mr. Sacul.
The autograph section was packed with fans wanting signed photos and memorabilia of their favorite Star Wars actors and actresses. Billy Dee Williams (Lando Calrissian), Jeremy Bulloch (Boba Fett), and David Prowse (Darth Vader) were popular stops. But the busiest was without a doubt Carrie Fisher (Princess Leia). Fans braved lines with waits over 3 hours just to obtain Carrie's autograph. But I guess if you're a Star Wars fan, long lines are part of fandom culture.
Highlights of the event included the Rick McCallum Spectacular and Saturday nights Star Wars 25th Anniversary Concert, performed by the Indianapolis Philharmonic Orchestra. The fan favorite and colorful McCallum, Episode II's producer, treated audiences to an 8 minute digital trailer of the film as well as an astounding new trailer featuring Yoda exhibiting his fighting prowess against a sinister opponent. The sold out concert, hosted by C2 Master of Ceremonies Anthony Daniels, featured music from the 4 Star Wars movies sans Clones (much to the disappointment of a few fans). The concert even had special surprise appearances by Darth Vader and a platoon of Stormtroopers during the performance of "The Imperial March". A twisting and beeping R2-D2 also joined in on the festivities.
All in all, the event was a tremendous success, despite the fiasco with the exclusive figure and some flawed logistics on the part of convention planners. It makes a strong case for the viability of the franchise and the loyal following of fans, both old and new, who will always carry with them the love and passion for that galaxy far, far away.