DAK RALTER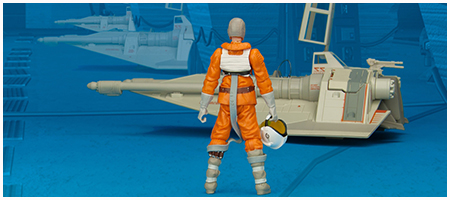 2014 The Black Series
This idealistic rebel pilot serves as the gunner for Luke Skywalker's snow speeder during the Battle of Hoth, facing down advancing AT-AT walkers.
The #25 Dak Ralter is a much-improved repaint of The Vintage Collection VC07 Dack Ralter action figure from 2010. Beyond its corrective flesh molded (instead of beige moulded) head -a major improvement on the original release- Hasbro also ensured the packaging featured the correct spelling of this young rebel's name. This repaint can be easily identified by the date stamp on the back of the figure's pilot harness.
The #25 Dak Ralter action figure shipped in the fourth wave of The Black Series 3 3/4-inch collection along with the repainted #20 Bastila Shan, the much-needed updated #21 Luke Skywalker Dagobah Padawan and #22 Yoda Dagobah Jedi Master, and the debut #23 Toryn Farr and #24 Snowtrooper Commander action figures. This assortment was partially revealed at Hasbro's T'was The Night Before... Party in October 2013 and began hitting both virtual and physical shelves in late July, 2014.

Product Information
Manufacturer:
Hasbro
Year:
2014
Original Retail:
$9.99
Assortment Number:
A9092/A5077
UPC Number:
6 53569 97430 7
What's In The Box?
Dak Ralter Action Figure
Helmet
BlasTech DL-21 Pistol
BlasTech A280 Blaster Rifle
Text & Photography by D. Martin Myatt
Page built by Adam Lamping
comments powered by

Disqus