501ST LEGION AT-RT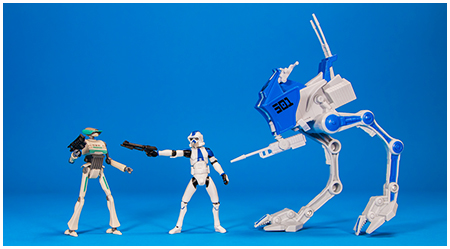 2013 Yoda Packaging
An AT-RT (All Terrain Recon Transport) is an armed one-man walker that supports the Republic forces during battle.
The first and only wave of Hasbro's 2013 Class I vehicle collection was first put on display in their booth at Celebration VI. The assortment included the 501st Legion AT-RT, 501st Legion Attack Dropship, MTT Droid Fighter, and Yoda's Jedi Attack Fighter sets. Each set included two repainted or kit bashed action figures and a brand new or repainted single passenger vehicle.
The 501st Legion AT-RT set included a repaint of The Clone Wars 201 AT-RT with ARF Trooper Class I vehicle along with a repaint of The Clone Wars 2009 CW10 ARF Trooper figure and the The Clone Wars 2010 CW46 TX-20 figure.

Product Information
Manufacturer:
Hasbro
Year:
2013
Original Retail:
$19.99
Assortment Number:
A0919/A0918
UPC Number:
6 53569 80341 6
What's In The Box?
AT-RT
501st ARF Trooper
TX-21 Tactical Droid
DC-15 Blaster
Battle Droid Blaster
Fighter Pods Pamphlet
Text & Photography by D. Martin Myatt
Page Built by Adam Lamping
comments powered by

Disqus