501ST LEGION ATTACK DROPSHIP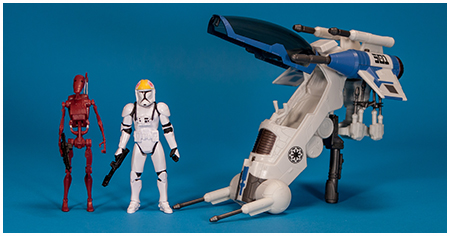 Movie Heroes
A 501st Legion attack dropship flown by a 501st Legion Clone Pilot deploys troopers into combat against Battle Droids. Bearing the iconic markings of the elite 501st Legion, the dropship has cannons and chin guns to drill deep into battle zones. The pilot briefly lands with the ship's cockpit rotated into deploy position to drop up to two troopers onto the field before flying back into the air to provide ground support.
The 501st Legion Attack Dropship was part of the first and only wave of Hasbro's 2013 Movie Herores Class I vehicle collection. It was first put on display in their booth at Celebration VI along with the three other sets in its assortment, included the 501st Legion AT-RT, Yoda's Jedi Attack Fighter, and MTT Droid Fighter sets. Each set included two repacked or kit-bashed action figures and a brand new or repainted single passenger vehicle. In this instance, all three parts are simple repaints.

Product Information
Manufacturer:
Hasbro
Year:
2013
Original Retail Price:
$19.99
SKU:
6 30509 78638 2
Item Number:
A0921/A0918
What's In The Box?
Clone Pilot Action Figure
Removable Helmet
Blaster
Battle Droid Action Figure
Removable Backpack
Blaster
Attack Dropship Vehicle (7 pieces)
2x Projectiles
Instruction Sheet
Fighter Pods Pamphlet
Text & Photography by D. Martin Myatt
Page Built by Adam Lamping
comments powered by

Disqus