BAZE MALBUS VS IMPERIAL STORMTROOPER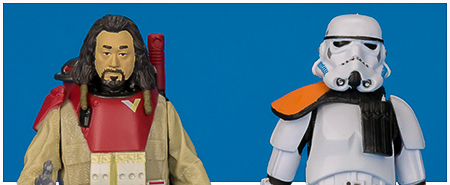 Rogue One VS Series
Hardened by the harsh reality of his Imperial-occupied home world, pragmatic soldier Baze Malbus is a crack shot with his heavy repeater cannon who uses his natural bravado during the occupation of Jedha to face off against the Galactic Empire's deadly, white-armour-encased loyalists, the Imperial Stormtroopers.
The Baze Malbus VS Imperial Stormtrooper 3 3/4-inch two pack pictured here was part of the second assortment in Hasbro's Rogue One VS collection. It, along with the Seventh Sister Inquisitor VS Darth Maul set, began shipping in October, 2016. Both figures in this set are debut releases.
Early in production run Hasbro altered the paint and mold colors on the Baze Malbus action figure to make it more screen accurate.
BAZE MALBUS

Product Information
Manufacturer:
Hasbro
Year:
2016
Original Retail:
$14.99
Product Number:
B7260/B7073
UPC Number:
6 30509 42007 0
What's In The Box?
Baze Malbus Action Figure
Heavy Repeater Cannon
Imperial Stormtrooper Action Figure
BlasTech E-11 Blaster Rifle
Dual Projectile Launcher
2x Projectile (4 pieces)
Instructions
StudioFX Pamphlet
Photography by D. Martin Myatt
Page Built by Adam Lamping
comments powered by

Disqus