BESPIN BATTLE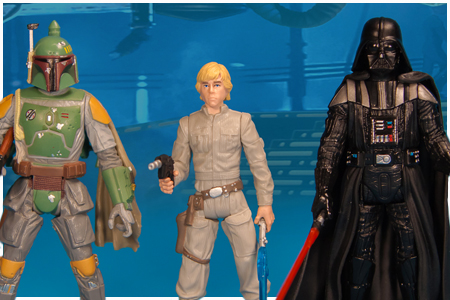 Movie Heroes Battle Pack
The assortment in Hasbro's Movie Heroes three figure Battle Packs collection began hitting shelves in May 2012, and featured completely new figures that sported Kenner-esque (1978-1985) points of articulation. Even though the figures had ball jointed heads (except for Vader), the four other points of articulation matched the original collection's perfectly. The Bespin Battle, which featured Luke Skywalker (Bespin Fatigues), Boba Fett, & Darth Vader, and the Duel On Naboo, which pitted Qui-Gon Jinn & Obi-Wan Kenobi against Darth Maul both equally honoured the line's roots and addressed the issue of price point. All six figures released in these two sets are dynamic in ways collectors have never seen before.

Product Information
Year:
2012
Original Retail:
$19.99
Assortment Number:
37824/37822
UPC Number:
6 53569 69735 0
What's In The Box?
Luke Skywalker Figure
Boba Fett Figure
Darth Vader Figure
Luke Skywalker's Lightsaber
Luke Skywalker's DL-44 Blaster
Boba Fett's EE-3 Carbine Rifle
Boba Fett's Sacros K-11 Blaster Pistol
Boba Fett's Jetpack
Boba Fett's Cape
Darth Vader's Lightsaber
Darth Vader's Cape
3x Tan Display Stands (randomly packed out of four designs)
3x Galactic Battle Game Cards
Game Die
About This Set
All three figures are new sculpts.
Boba Fett and Luke Skywalker both feature functional holsters.
Text & Photography by D. Martin Myatt
Additional Photography by Rich Alot
Page Built by Adam Lamping