BOBA FETT (PROTOTYPE ARMOR)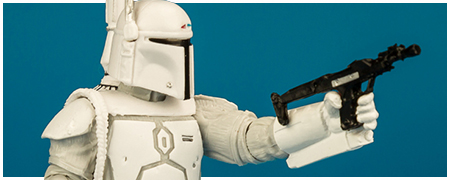 2017 The Black Series
Before he put on the familiar Mandalorian armor from the Star Wars saga, this notorious bounty hunter was initially envisioned as a "Super Trooper" in all white armor.
The Boba Fett (Prototype Armor) action figure featured on this page was part of the eighth wave of The Black Series Walmart exclusive 3 3/4-inch collection, giving collectors that missed out on The Vintage Collection send away from 2011 a second chance. It, along with the repacked Tusken Raider, Ponda Baba, Sandtrooper action figures began hitting shelves in May, 2017

Product Information
Manufacturer:
Hasbro
Year:
2017
Original Retail Price:
$12.99
Assortment Number:
C3032/B4054
SKU:
6 30509 57651 7
What's In The Box?
Boba Fett Action Figure
2x Unique Blaster Pistols
Mitrinomon Z-6 Jet Pack
Photography & Text by D. Martin Myatt
Page built by Adam Lamping
comments powered by

Disqus