BOBA FETT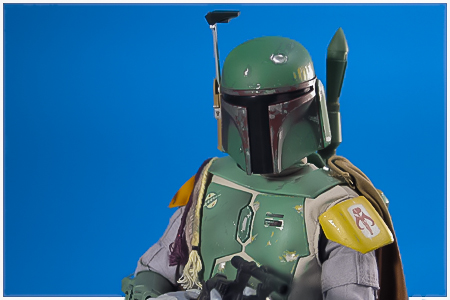 The Empire Strikes Back Version
Sideshow Collectibles revealed their 1/6 scale Scum & Villainy Boba Fett (The Empire Strikes Back version) at the 2011 San Diego Comic-Con. The figure went up for pre-order on September 16th, 2011 and began shipping in July 2012. The exclusive version included a green display stand emblazoned with Fett's chest armour Mandalorian Insignia, as a nod to his clone heritage.

Product Information
Manufacturer:
Sideshow Collectibles
Year:
2012
Original Retail:
$174.99
Exclusive Item Number:
21281
Regular Item Number:
2128
Exclusive Edition Size:
2,000
Regular Edition Size:
Limited Edition (No Published Edition Size)
What's In The Box?
Boba Fett Figure
7x Right Hands
4x Left Hands
2x Pairs Of Boots
2x Gauntlets
Backpack
2x Knee Pads
Sash Belt
Utility Belt w/ Removable Holster
EE-3 mark 1 Carbine Blaster Rifle
Blaster Pistol
Survival Knife
Sonic Beam Weapon
Anti-Security Blade
Rocket Pack Adjustment Tool
Display Stands w/ Light Up Feature & 2x AA Batteries (three pieces each)
Exclusive Accessory
Display Stands w/ Mandalorian Insignia (three pieces each)
About This Figure
The list of parts above note all the pieces that are removable. All other pieces associated with this figure are not meant to be removed.
At first glance, the light up display stand looks to be the same as the one included with the IG-88 figure, but the Fett version has the power switch on the back instead of the bottom, and illuminates orange instead of red.
Photography & Text by D. Martin Myatt