BOSSK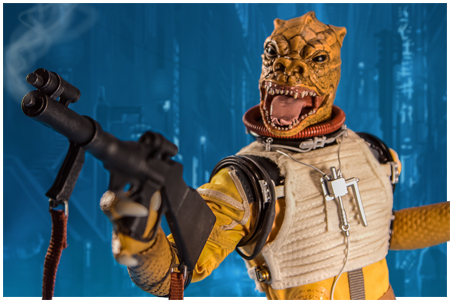 1/6 Scale Figure
While Sideshow Collectibles' Bossk figure was officially announced and went up for pre-order on June 29, 2012, collectors got their first look at it five months earlier when a sneak peek video was published to their site on January 22. Bossk began shipping in January, 2013.

Product Information
Manufacturer:
Sideshow Collectibles
Collection:
Scum & Villainy
Source:
Star Wars: The Empire Strikes Back
Year:
2013
Original Retail:
$159.99
Regular Item Number:
100057
Exclusive Item Number:
1000571
Regular Edition Size:
3,000
Exclusive Edition Size:
1,250
Included in the box:
Prometheus 1.2 Body featuring Trandoshan Forearms & Lower Legs
Bossk Head (neutral)
2x Sets Of Hands
2x Sets of Feet
Pressure Suit
Flak Vest
Padded Undergarment
Neckbrace
Dickey
Pilot's Harness Straps
20x Signal Flares
4x Mini Vials
Compass Device
Relby V-10 Micro Grenade Launcher
Star Wars Display Stand
Exclusive accessory:
Additional 'Snarling' Bossk Head for Alternate Display
About this toy:
While the feature film version of Bossk is left handed, this figure follows the long histpry of making the character right handed. One right hand has a port in it to help support the rifle in action poses. The post on the rifle will only fit in the port if the right hand is on the right arm, so switching it over to the left hand will not work.
In The Empire Strikes Back Bossk is missing one of the Signal Flares on his right leg. Since they are all removable, it is easy to make the figure that much closer to screen accurate.
Photography & Text by D. Martin Myatt
Page Built by Adam Lamping