C-3PO & R2-D2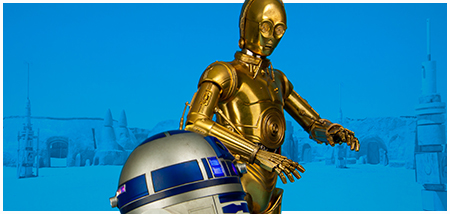 Premium Format Figures Regular Edition
Sideshow Collectibles always said they would be
willing to explore articulation
if and when they produced a Premium Format Figure based on a Droid, and when
the work-in-progress image
of the C-3PO portion of this set was revealed in a collecting panel at the 2009 San Diego Comic-Con, all in attendance saw that they were going to pull it off. When the set was fully revealed During
SSC's 2012 May The Fourth event
. The Droids went up for
pre-order on June 26, 2012
, and collectors not too busy shooting pictures of Sideshow Collectibles statues and figures were able to get in on the exclusive edition, which was limited to only 200 pieces. Everyone else got this set pictured here. The set began shipping at the end of July, 2013.

Product Information
Manufacturer:
Sideshow Collectibles
Source:
Star Wars Episode IV: A New Hope
Year:
2013
Regular Edition Original Retail:
$749.99
Exclusive Edition Original Retail:
$774.99
Regular Edition Number:
7176
Exclusive Edition Number:
71761
Regular Edition Size:
Limited Edition
Exclusive Edition Size:
200
What's In The Box?
C-3PO (2 pieces)
R2-D2 (2 pieces)
2x Restraining Bolts
3x AA Batteries
2x CR1130 Batteries
Display Base
Exclusive Version (grudgingly not shown):
Clean and Shiny C-3PO (2 pieces)
Clean R2-D2 (2 pieces)
2x Restraining Bolts
3x AAA Batteries
2x CR1130 Batteries
2x Display Bases
That One Major Error?
The Restraining Bolt doesn't attach to R2-D2 where it should.
Looking Past Our Disappointment For Not Having The Exclusive?
The Regular Edition statue is truly amazing, and still a great addition to any collection.
Text & Photography by D. Martin Myatt
Page Built by Adam Lamping
comments powered by

Disqus