YODA
Celebration V Exclusive Ornament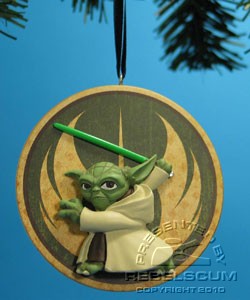 Source: Expanded Universe:
The Clone Wars

Year: 2010

Retail: $12

UPC Number: 7 95902 19752 0

Limited Edition:
1500
Comments:First seen in The Empire Strikes Back in 1980 and now appearing in weekly episodes of Star Wars: The Clone Wars, Yoda is beloved by fans and has become one of the most recognizable icons of the entire Star Wars saga.

Revered Jedi Master, respected member of the Jedi Council and undisputed expert in the ways of the Force, Yoda was a high Jedi General during the Clone Wars. He trained many of the Republic's greatest Jedi before retreating to the swamp planet of Dagobah, where Luke Skywalker became his last pupil.
Points of Interest:

This special edition Clone Wars Yoda ornament is issued in limited quantities and available only at the Star Wars Celebration V.
Photography by D. Martin Myatt

Back To Basic Figures