REPUBLIC COMMANDO BOSS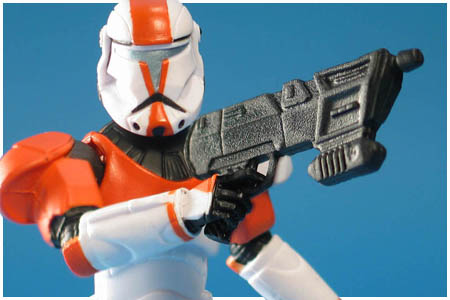 The Clone Wars Action Figure Collection
The second wave in the 2012 assortment of The Clone Wars action figure collection featured brand new figures based onObi-Wan Kenobi in his Season 3 outfit, Captain Rex (Phase II Armor), and Republic Commando Boss along with a repack of 2009's Aayla Secura. Each figure in this assortment features one of four randomly packed tan display stand, a playing card, and a black six-sided die.

Product Information
Manufacturer:
Hasbro
Year:
2012
Original Retail:
$9.99
Assortment Number:
37292/37290
Placement Number:
CW11
UPC Number:
6 53569 68290 5
What's In The Box?
Republic Commando Boss Figure
2x Blasters
Rifle
Backpack (3 pieces)
Hook on Rope
Tan Display Base
Galactic Battle Game Card
Game Die
About This figure
The Republic Commando Boss is an all new figure.
This figure features limited points of articulation including a ball jointed head, ball jointed elbows, ball jointed shoulders (with extremely limited posability), ball jointed torso, and pivot hips.
Text & Photography by D. Martin Myatt