OBI-WAN KENOBI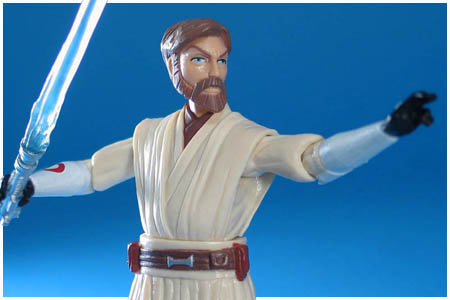 The Clone Wars Action Figure Collection
The second wave in the 2012 assortment of The Clone Wars action figure collection featured brand new figures based onObi-Wan Kenobi in his Season 3 outfit, Captain Rex (Phase II Armor), and Republic Commando Boss along with a repack of 2009's Aayla Secura. Each figure in this assortment features one of four randomly packed tan display stand, a playing card, and a black six-sided die.

Product Information
Manufacturer:
Hasbro
Year:
2012
Original Retail:
$9.99
Assortment Number:
37305/37290
Placement Number:
CW12
UPC Number:
6 53569 68291 2
What's In The Box?
Obi-Wan Kenobi Figure
Lightsaber
Backpack
Tan Display Base
Galactic Battle Game Card
Game Die
About This figure
This Obi-Wan Kenobi figure is an all new figure.
Text & Photography by D. Martin Myatt