AHSOKA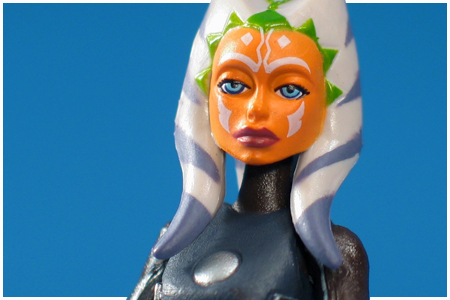 Scuba Gear
The third wave in the 2012 assortment of The Clone Wars action figure collection featured brand new figures based on Ahsoka in Scuba Gear, Clone Commander Wolffe, and Training Super Battle Droid. Each figure in this assortment features one of four randomly packed tan display stand, a playing card, and a black six-sided die.

Product Information
Manufacturer:
Hasbro
Year:
2012
Original Retail:
$9.99
Assortment Number:
37740/37290
Placement Number:
CW15
UPC Number:
6 53569 69209 6
What's In The Box?
Ahsoka Tano Figure
Long Lightsaber
Short Lightsaber
Mask
Backpack
2x Flippers
Lightsaber Launcher (three pieces)
Tan Display Base
Galactic Battle Game Card
Game Die
About This figure
This Ahsoka figure is a 100% new figure.
Text & Photography by D. Martin Myatt