CLONE COMMANDER WOLFFE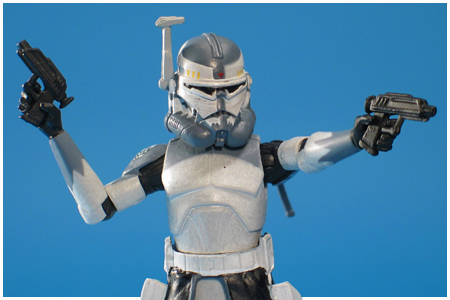 The Clone Wars Action Figure Collection
The third wave in the 2012 assortment of The Clone Wars action figure collection featured brand new figures based on Ahsoka in Scuba Gear, Clone Commander Wolffe, and Training Super Battle Droid. Each figure in this assortment features one of four randomly packed tan display stand, a playing card, and a black six-sided die.

Product Information
Manufacturer:
Hasbro
Year:
2012
Original Retail:
$9.99
Assortment Number:
37741/37290
Placement Number:
CW17
UPC Number:
6 53569 69212 6
What's In The Box?
Commander Wolffe Figure
2x Blasters
Missile Launcher
Missile
Tan Display Base
Galactic Battle Game Card
Game Die
About This figure
This Clone Commander Wolffe is the second version of the character released as an action figure, but the first with a Phase II Helmet.
The figure is a repaint of the 2012 Captain Rex figure, but features a retooled left shoulder and a new head.
Wolffe's helmet is not removable, and the unmasked head from the previous figure will not fit on this figure's neck ball.
While this figure lacks most of the articulation the previous version had, it still has a ball jointed head, shoulders, and elbows as well as a swivel waist and pivot hips.
Both holsters are functional.
Text & Photography by D. Martin Myatt