THI-SEN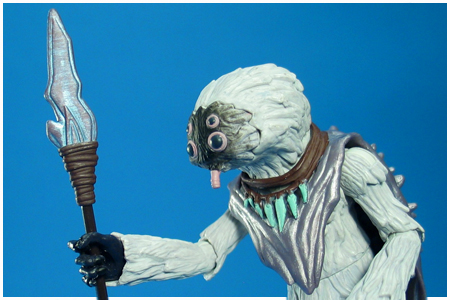 with Removable Battle Club!
Thi-Sen is chieftain of the powerful Talz warriors who inhabit the planet Orto Plutonia. Wearing distinctive armor, the fierce leader fights to keep his people free when a representative from the nearby Pantora moon claims jurisdiction over the ice planet. Thi-Sen was the forty-third of fifty figures released in 2009-2010. The wave included Hondo Ohnaka, Anakin Skywalker (Cold Weather Gear), Clone Commander Stone, Darth Sidious, and Commander TX-20.

Product Information
Year:
2010
Original Retail:
$7.99
Assortment Number:
94077/87638
Wave:
8
Placement Number:
CW43
UPC Number:
6 53569 45688 9
What's In The Box?
Thi-Sen Figure
Battle Club
Spear
Battle Armor
About This figure
The single carded Thi-Sen figure was the first time this sculpt was made available. It was later rereleased in the Battle of Orto Plutonia Battle Pack.
Photography by D. Martin Myatt