DARTH SIDIOUS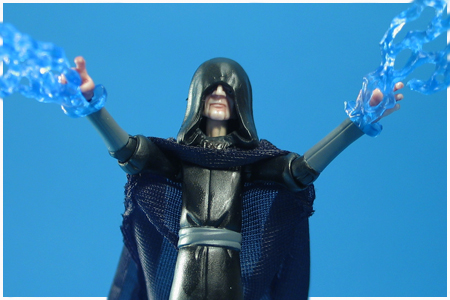 with Snap-On Sith Lightning!
The mysterious Darth Sidious manipulates events from the shadows to achieve his evil plans. He keeps his identity a secret as he gives orders to his minions, and uses his power and cunning to influence others and shape the outcome of the war. Darth Sidious was the forty-fifth of fifty figures released in 2009-2010. The wave included Hondo Ohnaka, Thi-Sen, Anakin Skywalker (Cold Weather Gear), Clone Commander Stone, and Commander TX-20.

Product Information
Year:
2010
Original Retail:
$7.99
Assortment Number:
94079/87638
Wave:
8
Placement Number:
CW45
UPC Number:
6 53569 45691 9
What's In The Box?
Darth Sidious Figure
Lightsaber
2x Clip-On Sith Lightning
About This figure
The single carded Darth Sidious is an all-new figure.
Despite what you see above, the hood is glued to the head of this figure, and is not intended for removal. As always, we're prepared to wreck our figures so you don't have to.
Photography by D. Martin Myatt